Daily Homeschool Record Keeping
What would you recommend for the daily record keeping of time and subjects… an official teacher record keeping book or something 'home made' on Excel. Should track grades on each assignment, as it is first done and as it is corrected to 100%, as well as track the time spent?
~ homeschool mom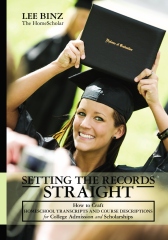 For record keeping, I had a sheet of notebook paper for every class.  I would write the names of any papers and the results of any tests or quizzes on that paper.  I didn't use any fancy forms or tracking software or anything.  Sometimes I didn't even have a pen, so I'd use crayon!  For things that had tests, I would say "Test 1, 90%"  For other things I just kept a running list of things they did or created, so that I would have that list when it came time to make the course descriptions.  You don't have to keep track of hours for subjects that use a textbook.  Either measure by textbook OR by hours, but you don't have to measure BOTH ways.
Whatever method you use, from purchased programs to blank notebook paper, what matters is that you keep records of some sort.  The form or format doesn't matter, so just use whatever is most natural and comfortable for you.
For more information, see my book Setting the Records Straight: How to Craft Homeschool Transcripts and Course Descriptions for
College Admission and Scholarships
.

Get our new FREE training webinar, "Grades and Credits and Transcripts, Oh My!!"
Stay Informed
When you subscribe to the blog, we will send you an e-mail when there are new updates on the site so you wouldn't miss them.
Comments
No comments made yet. Be the first to submit a comment