How do you choose a class title when nobody tells you what the class title should be? There are so many options for class titles. Even more so when you are talking about a skill that is repeated in high school.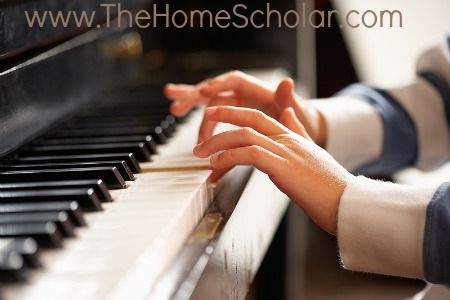 Lisa asked me how to name her piano class on a transcript.  The easy answer? You can do it any way that you want to, because all schools would do it differently.
So many options. So few rule. You get to choose!  Here are some options.


You could just say "Piano" each year, with no numbers attached to it at all: "Piano."


You could call the class beginning, intermediate, or advanced: "Beginning Piano."


You could use the grade number for the class title: "Piano 9" taken in 9th grade.


You could use the year in high school for the title; "Piano 1" taken in 9th grade.


You could use the number of years of practice: "Piano 7" after 7 years of practice.


You could use random Roman Numerals for added fun: "Piano IV"


Here is what I did. Originally I planned to use Piano 1, 2, or 3 depending on what year he was in high school - Piano 1 for freshman year. Later in high school, my son competed in piano, and his adjudication forms gave an official piano skill level.  I can't remember if it was 7 or whatever, when he was a junior. So that was the year I gave him Piano 7 - the year he was adjudicated during competition at that level. Then I counted backwards, and the previous year was Piano 6, the year before that was Piano 5.
Bottom line: there is no right or wrong answer, so you can do what you want to do.
 In fact, I did a quick check of some schools to see what they call their classes, and here is what I came  up with.
High schools have a variety of titles they use for a piano class. It's interesting to think about these being taught in a classroom setting.  I'm so thankful my shy child, less gifted in music, didn't need to take piano in front of other children. But here are the titles some schools use:


North Attleboro High School: "Piano Class"


Nicolet High School: "Beginning Piano" or "Intermediate Piano"


Vrevard Music Center: "High School Piano"


UNC Chapel Hill calls high school classes: "Group Piano IV" or "Group Piano V"


The Roman numerals were determined by age, generally.
Colleges had a variety of words and number for piano. I found this one amusing from Easterm Kentucky University.


MUS 109: Introductory Class Piano


MUS 110:  Beginning Class Piano I


MUS 111:  Beginning Class Piano II


MUS 112:  Piano I


In this case, introductory comes first, then beginning, and then the students have finally achieved the esteemed class title of "Piano 1."
For some classes, there are no right or wrong answers. You get to choose! Knock yourself out! Feel the power! You are the homeschool parent!

If you would like to talk to Lee about your own class titles consider joining the
Gold Care Club
. As a member you can talk with Lee on the phone on a weekly basis!