Acronyms Rule in October! PSAT and FAFSA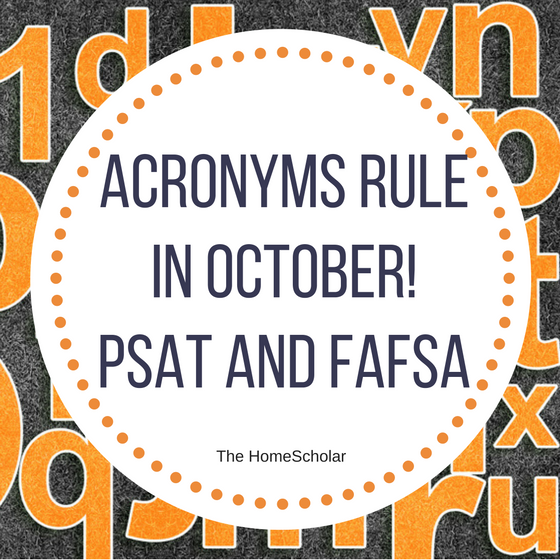 Acronyms Rule in October! PSAT and FAFSA
October is a big month for homeschoolers. It's when you need to know your stuff as the homeschool guidance counselor. But no need to freak out! It's fairly simple. There are only two acronyms you need to know: PSAT and FAFSA.
PSAT
The PSAT is a test that's only offered in October each year. I recommend it for 10th and 11th graders. It's a no-stress test, taken just for fun. Taking it in 10th grade will help your child learn to be calm and not freak out during tests. It will also help you, the guidance counselor, as you begin to think about which colleges might be right for your child, and consider how much test prep is important.
Taking the PSAT will help you start down the road toward college scholarships. Learn more about the PSAT here: Read more:
Take The PSAT for Fun And Profit
FAFSA
The FAFSA is the first step toward financial aid. This is an urgent task in October during senior year. FAFSA stands for "Free Application for Federal Student Aid." It's a form you fill out every year, much like 1040 tax forms. You need to complete it yearly from high school senior year until college graduation.
Complete the FAFSA so you can get the best possible financial aid. The earlier you fill it out, the better. So you can see how learning about the FAFSA will help you
every
October for a while now, right? Read more:
Complete the FAFSA for Fun and Profit

Stay Informed
When you subscribe to the blog, we will send you an e-mail when there are new updates on the site so you wouldn't miss them.
Comments
2
Hi Lee!
My daughter is in the 8th grade and is taking the PSAT 8/9 this morning. Do you know anything about this test? Since it is new, there wasn't a lot of information about it. We mainly used regular PSAT study materials. She is our oldest, and we plan on having our other children take it as they become 8th graders.
Kindest regards,
Laura
Hi Lee! My daughter is in the 8th grade and is taking the PSAT 8/9 this morning. Do you know anything about this test? Since it is new, there wasn't a lot of information about it. We mainly used regular PSAT study materials. She is our oldest, and we plan on having our other children take it as they become 8th graders. Kindest regards, Laura
Hi, Laura. Not much about the PSAT has changed; it is still very similar to the old one. You can read more about the PSAT changes here: http://www.princetonreview.com/college/psat-changes#!tab1 Hope that helps. Anita, Assistant to The HomeScholar