Homeschool Codes for Tests
Please note that as of January 2021,
The College Board has discontinued SAT Subject Tests® and SAT® essay.
.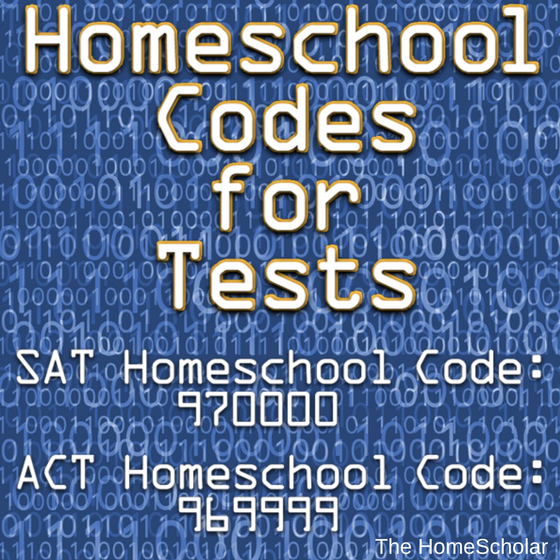 Click the image above to receive our free monthly newsletter

When homeschool students take college admission tests, they usually need to provide homeschool codes. Here are homeschool codes for tests all in one place for you:

SAT Homeschool Code is 970000

ACT Homeschool Code is 969999

PSAT For the PSAT, homeschoolers are compared with other students within their state, not compared against the nation. There is no homeschool code for this test. When they are asked the question, "Are you taking this test at the school you regularly attend?" simply have your child fill in the bubble that says, "No, I am homeschooled." There is no longer a homeschool code that you will need to input. I spoke to the College Board about this, and they pointed me to the PSAT-NMSQT Coordinators Manual. See the section called "Completing Initial Answer Sheet Information".

SAT Subject Tests Homeschool Code is 970-000.

PLAN (the pre-ACT test) Homeschool Code is 999-999

AP Test Homeschool Codes are provided by the test coordinator: "Homeschooled students will use the state homeschool code provided by the Coordinator on the day of the exam." See AP Exams for Homeschool Students. You may want to call the test administrator in advance, and tell them your homeschooled student is coming in for testing so they have the code ready.

Here is the good news - the test proctors will know the homeschool code! Don't panic if you forget to write it down, because generally someone in charge can tell you what it is, or they will know how to find the information. Even so, it can put your mind at ease to have these homeschool codes handy!

It helps to use the homeschool code. Then the testing company will contact you directly with test results, instead of sending it to the high school and rely on them to give you the test results. For that reason, you may receive the scores weeks sooner when you use the homeschool code.
By the way, these numbers are called CEEB codes. A CEEB code is a standardized ID number that is assigned to a high school, college, or university and issued by the Educational Testing Service (ETS). They are mostly used in college entrance exams such as the SAT and ACT, but are also used by the NCAA sports, and sports and academic teams.
Many universities have opted to use CEEB codes on their applications. Because these numbers are such a big deal, to avoid mistakes most applications do not allow manual entry of the codes during online registration. Instead, they rely on a school code search by state, which can sometimes be confusing. That's more than you will ever need to know!

Please note: This post was originally published in October 2012 and has been revamped and updated for accuracy and comprehensiveness.
Stay Informed
When you subscribe to the blog, we will send you an e-mail when there are new updates on the site so you wouldn't miss them.