Need to Homeschool High School?


Let me show you how!
What's the Difference Anyway?
What is the difference between history and social sciences? The terms "social sciences" and "history" may be used interchangeably in high school and college requirements. Social sciences (or social studies), is a broader term having to do with human social interaction. It can include history, government, economics, psychology, and sociology.

Different curriculum providers tout themselves as the best, most rigorous, or only way to educate successfully. Like everything in homeschooling, there are a variety of ways to teach social sciences, and many different classes you can provide to meet requirements.

Note: This post contains affiliate links. If you click and buy, I make a few pennies, but sadly, not enough for a latte.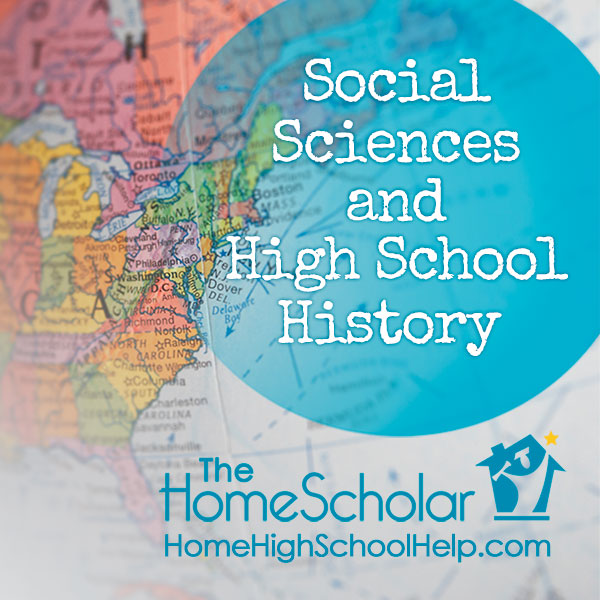 Course Options
Begin by reading your local homeschool law for requirements. You can find this information here: Know Your State Homeschool Law. Within the law, you may find some flexibility. While state law or government classes may be specified, rarely will they require specific time periods you must cover.

For high school graduation and college admission requirements, include three to four years of social sciences or history on the transcript. High schools and colleges usually require American History, World History, American Government, and Economics. The government and economics courses may be semester-long (half-credit) classes.

You don't have to stick to only the four usual courses, you can branch out. Optional courses might include any of the social sciences, and there are many them. Some of the social sciences include psychology, sociology, anthropology, and comparative government. You could also teach the history of anything or any country. In some states, a state history class may be required.

When I was in public high school, I took a social sciences class called "Polynesian History." My teacher in high school was passionate about going to Hawaii every year and he could help finance that trip to Hawaii by teaching Polynesian history. My brother in-law taught a social sciences elective class called "History of Baseball" at a public high school because he loves baseball. Your options are limited only by your child's passions, but in public high school it's the teacher's passion that matters.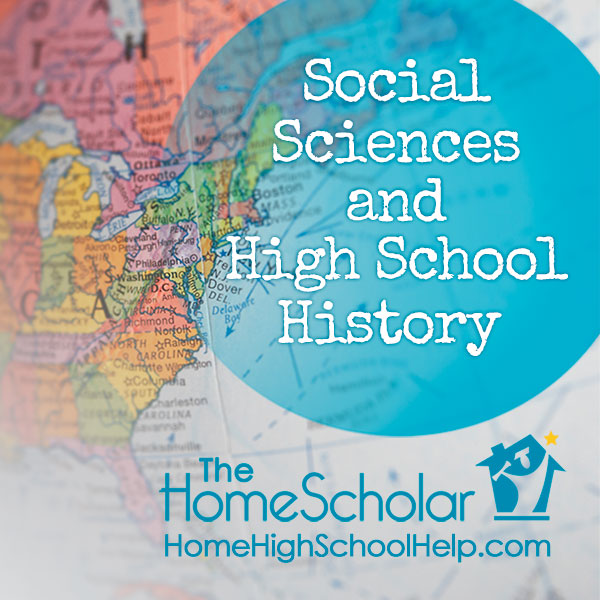 A Whole World of Social Sciences to Explore
History, including the study of any country or people. You might study the country you are living in, your family's country of heritage, or a location of interest. My son studied Russian history because of his interest in chess.

Government classes such as comparative government, U.S. government, or civics.
Economics classes such as microeconomics, macroeconomics, marketing, or business economics.

Geography classes such as political, physical, or cultural geography. While geography is often taught within the context of other social sciences classes by including mapwork during the study of American history, some parents prefer to teach a separate geography class.

Classes about human behavior such as psychology, sociology, women's studies, comparative culture, or anthropology.

I suggest covering the core social sciences classes with world history, American history, government, and economics. There are no rules about what time periods you need to include or how deep into each subject you need to go. You can include other classes on your transcript as social sciences or electives.
History Curriculum and Learning Styles
There are a million great ways to homeschool. The best way is the one that fits your child's unique learning styles. Use what you know about your student and learning styles, consider the subjects that colleges want, and then embrace the freedom of home education to tailor the pace, content, and curriculum that best first your child. While some families prefer textbooks, they don't fit all families. I'll list a few of my favorites but if you still need more choices, please look to Cathy Duffy, as she offers excellent reviews.

Hands-On Learning

Social sciences courses can be hands-on, and not only out of a book. For instance, you can search for experiences that will teach your homeschooler concepts in civics (how citizens interact with and their duties and responsibilities toward their government) or American government (how our government works). Some great experiences include YMCA Youth and Government, TeenPact which offers a Christian perspective, working as a page at your State Capitol, working on an election campaign, and Speech and Debate clubs which often cover social sciences. Diana Waring's history curriculum looks like a textbook with resources, but can provide options for all learning styles. Mystery of History is a well-rated curriculum with hands-on options as well.

Literature-Based Learning

There are wonderful literature-based curriculum options that encourage the love of reading, provide gifted children a challenge, and fit the interests of prolific readers. Our family loved learning social sciences through literature using the Sonlight Curriculum. There are other wonderful literature-based curriculum options that encourage the love of reading, provide gifted children a challenge, and fit the interests of prolific readers. Look into Tapestry of Grace, My Father's World, Beautiful Feet, Veritas Press, Notgrass History, and TruthQuest History.

Video-Based Options

While video instruction can seem fun, it can get old after a while. It's also important to limit technology use in your homeschool when you can. That said, Hillsdale College offers a variety of free online courses in history, government, and economics that are excellent. The Great Courses website has in-depth college-level lectures in video plus audio format, so you can listen to the audio courses while you're driving your kids around to different activities.

Keep in mind that one credit is 120 to 180 hours, or about one hour a day. And one-half credit is 60 to 90 hours, or about half an hour per day. The number of hours per video is clearly explained in the description of each class, so it's easy to figure out how many videos you'll need for a credit. The Great Courses can be cost-prohibitive for many families, so remember they can often be ordered by your local library for free. These videos are not Christian-based, so also keep this in mind.

Gifted and Advanced Options

If you find that your child has an interest and would like to dig deeper into a subject, there are ways to find advanced topics outside-the-box in social sciences. There are also open online courses available from colleges that provide in-depth instruction. While college level, they may have secular content that is not appropriate for younger teens. Read more about Massive Open Online Courses [MOOCs] For Homeschool Students to make sure you understand what they are about before diving in.

Fast and Easy Social Sciences

Some people love history and others … not so much. If you have a history-phobic kid or are a social sciences-loathing parent, you don't have to skip the subject. Sometimes you need to think outside the box for a fast and easy way to cover social sciences. Relax. Not everything in high school has to be hard. Sometimes you can do things the easy way.

At my public school, there were some classes we fondly referred to as "underwater basket weaving" because they were so easy. For example, in my high school economics class, we learned supply and demand and how to fill out the 1040EZ. That was about it.

The truth is, fast workbook and easy reader combos are sometimes used with accredited programs. Here are my fast and easy ways to get social sciences cranked out when you can't otherwise cope with the subject.

For American Government, you can combine the book, Are You Liberal? Conservative? or Confused? with the workbook Bluestocking Guide: Political Philosophies. I also suggest adding Whatever Happened to Justice? by Richard J. Maybury.

For American history, you can consider reading this set of books, A History of US: Eleven-Volume Paperback Set 3rd Ed by Joy Hakim and perhaps adding videos from The Great Courses, High School Level-Early American History: Native Americans through the Forty-Niners or the audiobook The History of the United States, 2nd Edition.

To easily cover world history, these is a research-based, low-impact workbook curriculum for all ages, Around the World in 180 Days by Sherrie Payne. Or combine some of the Great Courses, like High School Level World History: The Fertile Crescent to The American Revolution: The Long 19th Century The Long 19th Century European History from 1789 to 1917 and Turning Points in Modern History, or other world history offerings you find.

To quickly crank out a semester of economics, combine this book, Whatever Happened to Penny Candy? A Fast, Clear, and Fun Explanation of the Economics You Need For Success in Your Career, Business, and Investments, with the coordinating workbook, Bluestocking Guide to Economics by Jane Williams.

This seems too light a workload to me, even though it's suggested by some accredited programs. If you want to beef it up a little, add the Basic Economics class from The Great Courses. It's a simple college level lecture that can help bring it up to a more challenging level but without making it a hard class.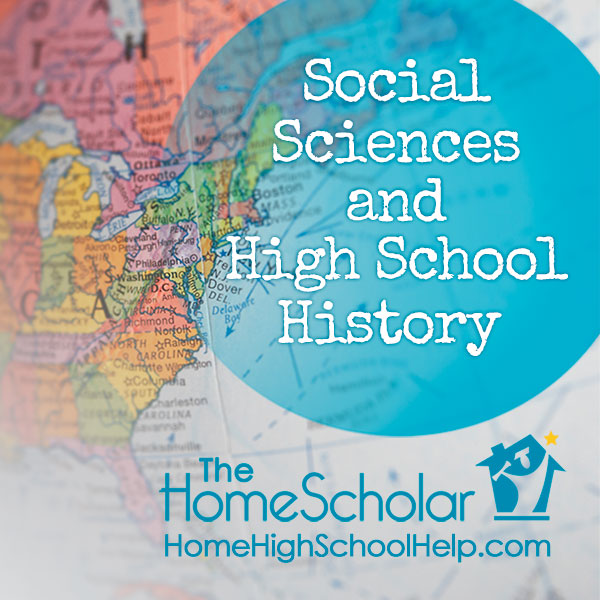 Economics Explained
You can cover the minimum requirements. Economics is usually a half credit, semester-long class taught during senior year of high school. Sometimes parents provide a full one credit class on economics or want to prepare students for the AP® exams in economics. There are many ways to cover economics. I've already explained how to make it fast and easy, but that's not always the best path forward. While I had an easy economics class in high school, I was completely unprepared for the required economics course I had to take in college.

If you want to cover a rigorous, honors-level, full credit Economics course, consider getting Sonlight Curriculum Economics Program or Thinkwell Economics for Homeschool Students. I haven't used this set myself, or seen a copy, so I can't comment on the economics perspective or philosophy of the class. I have heard great reports and I know that it is a full credit class that will prepare students for AP® exams in Micro and Macro Economics.

Delight Directed Economics

I homeschooled my sons and I know what it's like to cover social sciences in the real world. One of my children did the bare minimum in economics, mostly through Economics by The Great Courses. My younger son loved economics more than anything and ended up with a whole credit of economics every year, using almost every resource known to man, in addition to his other social sciences classes. He earned an economics credit, a microeconomics credit, and a macroeconomics credit, all through delight directed learning.

My son loved the resources at Discovery Institute where he first met Jay Richards. He attended Acton University during summer breaks and presented at the Western Economic Association International Conferences as a high school student. Remember to include delight directed learning on the transcript. Even if a student loves a subject, it can still be placed on the high school transcript.