Need to Homeschool High School?


Let me show you how!
It's All Fun and Games Until Someone Gets Hurt
At first, homeschooling was truly fun and games. We loved the freedom of learning together, at your own pace, matching curriculum to the kid's interests and learning styles. But high school seemed like much more serious business. Would our childrens' future be hurt by our decision to homeschool high school? Our free and easy homeschool style started to take on a decidedly more "serious" tone. Dark questions crept in: "Can we do this?" "What about college?" "Will they be able to earn scholarships?" And the ever popular, "How on earth will we teach Calculus??"

I wish I could give you a well-reasoned answer to why we graduated high school from home. The truth has likely more to do with inertia than conviction. We loved homeschooling. We felt it was exactly what God wanted us to do, and it had worked well so far, so... we continued.

As is often the case, "no decision" is a decision. Although we feigned confidence, there were still some lingering doubts. The doubts grew as we started college applications. As slowly as these doubts crept in, they were gone in a single day.

I'm referring to the day we got a call from our children's first-choice university. My boys had each been awarded a four year, full-tuition scholarship. We were thrilled and amazed! I had given the college a transcript I made on my home computer using a Word document. All the grades were "mommy grades." Our beloved and precious homeschool diploma was not accredited; it was purchased from an online printing company.

Think about how freeing this is! We were able to succeed in high school beyond our wildest dreams even though we were unprepared for the subject matter, doubtful of our capability, concerned about college, and afraid of the unknown. We were scared! But it worked out anyway. We were faithful to God's voice, despite our fears.

And when we are faithful, God is always more so.

They say hindsight is 20/20. Looking back, we can see how homeschooling high school gave us the advantage in academics, socialization, specialization and character.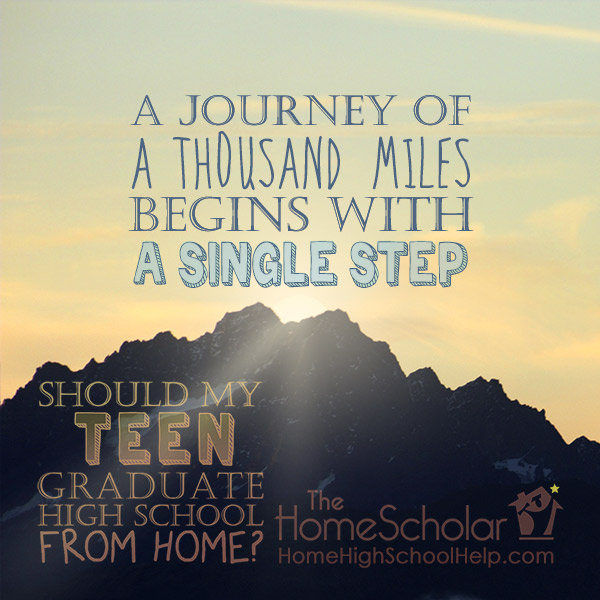 Homeschool Advantage 1 - Academics
When parents think about whether they should graduate high school from home, often the academics scare them the most. They look at calculus, French, or biology and become overwhelmed. But that's why there is curriculum made just for homeschoolers. It assumes the parent knows nothing about the subject. It often encourages teenagers to become self-directed learners. Remember, it's not a failure when children teach themselves, it's a success! You want to produce adults who can learn what they need to know – it's a good thing!

Of course, not every child will go to college, and yet every homeschooler can have a college preparatory high school. College preparation is important for college bound students, that much is clear. But it may be even more important for students who don't go to college! For these students, homeschool may be the only formal education they receive. They need this strong start to be good citizens; to vote responsibly, and to provide for their family.

Teenagers will notoriously change their minds about everything. Preparing them for college can help them succeed no matter where they end up. A well-educated student can go into the workforce, go to college, or become an entrepreneur with equal chances of success.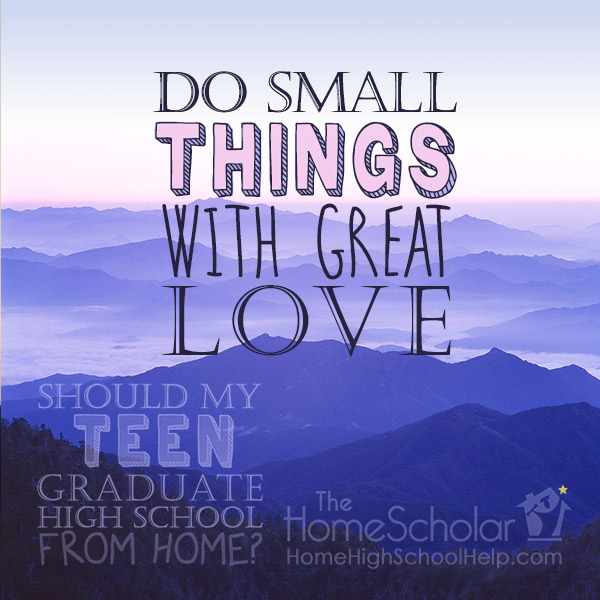 Homeschool Advantage 2 - Socialization
Homeschool students tend to be wonderfully socialized. There, I said it. You can see this immediately when you meet them. Homeschooled students are wonderful people! I remember the very first week I began homeschooling, and I took my children to the local "Homeschool Skate." At one point, I saw a small child fall down. Immediately, teens flew in from every direction to help! They scooped up the little one and returned him to his parent. I had been around a lot of teenagers before, but I had never seen such group-wide social responsibility. I was hooked on homeschooling from that instant.

Homeschooled teens socialize in the real world, with a variety of ages. They get feedback from adults and children, as well as age-mates. They become adept at interacting with all people, regardless of their age. My youngest son became our church choir director at the age of 16. One elderly choir member said, "He talks to me the same way he talks with the other young people!" He was shocked that a young man could converse naturally with everyone.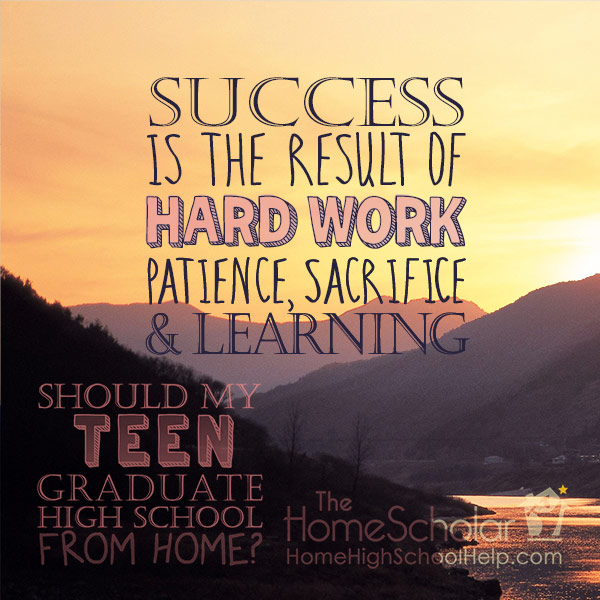 Homeschool Advantage 3 - Specialization
Homeschooling is an efficient mode of educating, even in the high school years. No waiting in line, bus rides, homework, or disrupted classes! Our students end up with literally more learning hours in the day. Homeschoolers can spend this additional time diving into activities and subjects they love. It's not unusual to see children spending hours doing what they love – that's how homeschoolers end up as spelling bee champions, worship leaders, or research interns. Their parents didn't push them; they just had time to pursue their own interests.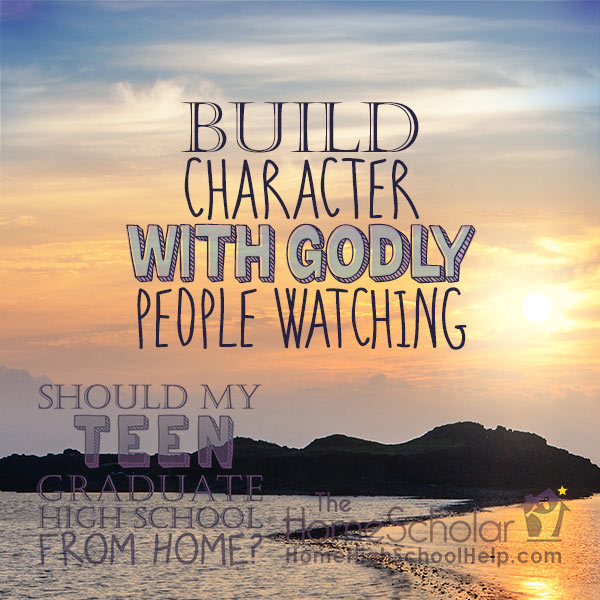 Homeschool Advantage 4 - Character
Character may be demonstrated when nobody is looking, but it is learned when parents are watching. Homeschooling high school provides opportunity to daily shape and mold children, so character is firmly established. Their manners, values, and faith can be influenced by parents over peers, during the time when kids are deciding the kind of people they will be. They get continuous feedback from parents as they shuttle back and forth between the "light" and "dark" sides of their character.

Rebellion looks different when you learn character with Godly people watching. One day when my children were very little, I overheard them playing. They decided to act like "bad guys." As I wondered about their view of "bad guys" I overheard my eldest explain his evil plan to his younger brother. "Let's bump into people and NOT say excuse me!"

When they got older, their "rebellion" led them to grow facial hair at college. What a delightful display, especially considering the alternatives! Shaping and molding their character during high school has made a huge difference in my kids' lives.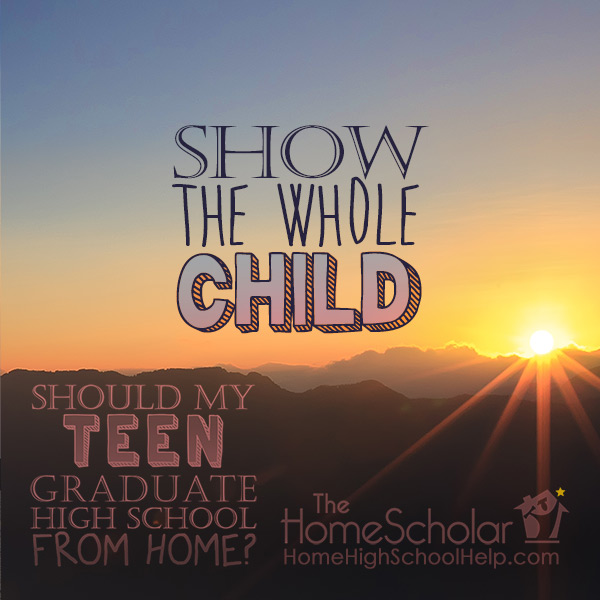 The Whole Package
Parents provide the best representation of their student on paper. One of the scariest parts of homeschooling high school is the transcript (the old "permanent record"). But the transcript is the best part of homeschooling! A school can only record what happens in their school. Homeschoolers, however, get to include all educational experiences on a transcript.

Homeschooling provides a wider array of high school classes than other settings. Our choices aren't limited by a school district or school board, and we don't have to include classes that waste time. Because life is about learning, we get to include all their "learning for fun" on their transcript as well. A homeschool transcript makes your child look well rounded, because it includes the whole child, not just their activities during a small part of the day.
Graduate High School from Home - 3 Keys to Success
Little is required to homeschool high school successfully. There are three basic requirements that you should be able to find in your home.

Homeschooling Requires Love

You must love your child and want the best for them. You want them to grow up and gain skills needed to support themselves. That, I suppose, is the biggest motivation for parents. If we fail, they might live with us forever! At some point, children will have to leave the nest and make their own home.

Homeschooling Requires Motivation

Beyond love, it takes motivation to succeed through high school. Attentive effort can make all the difference. It doesn't take a math major, a bilingual scientist, or certified teacher, however! It just requires the conscientious effort of a loving parent. Educate yourself about high school issues. Treat homeschooling like a vocation. Your job requires continuing education. Spend time and money learning about the issues.

Homeschooling Requires Commitment

God has chosen you to homeschool your children. Is God asking you to change? My job is to remove the fear of high school. If a parent looks at high school without fear, it's much easier to listen to the urgings of the Spirit.

I don't know what is right for your family, but you do. If you decide to homeschool through high school, there is a LOT of support available. I'm here to help you finish the job, and finish strong!