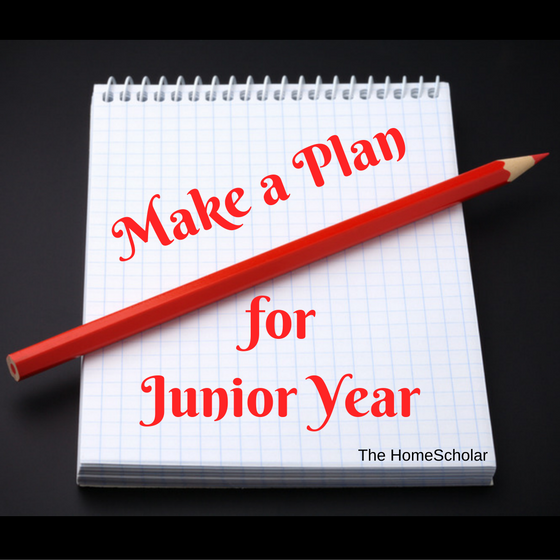 Make a Plan for Junior Year
What is your plan for Junior year? It's one of the most important years of high school. It's the year that can make all the difference in college admission and scholarship success.
Your Goal
Your goal is to choose colleges to apply to. By the end of junior year, decide on 4-8 colleges where you will apply for admission. They should be acceptable to both you and your child, with a mix of reach, fit, and safety schools, and both public and private universities.
Plan Classes
This year, your child needs to take the following classes:


English - 1 credit


Math - 1 credit


History - 1 credit


Science with lab - 1 credit


Foreign language - 1 credit, very important, have you started a language yet?


P.E. - at least 2 credits in high school, have you done P.E. already?


Fine Art - will need 1 credit in high school, have you completed one already?


Electives - the fun stuff, delight directed learning


Do you feel like you need more help for planning the year? Read
Planning High School Courses: Charting the Course Toward High School Graduation
, one of my Coffee Break Books.
Mark Your Calendar
There is a very specific pace and process for junior year. Make sure your child takes the PSAT. Plan to attend a college fair - put it on your calendar now. Over the course of the year, study college statistics. If the college statistics look OK to you, and you think you may want to apply, then visit the college.
Do you need more help understanding the tasks of junior year? Read
Junior Year is the Key to Homeschool Success: How to Unlock the Gate to Graduation and Beyond
, in my Coffee Break Book series.
Extra Tips
For parents, your job is to make sure your child's transcript and course descriptions are up to date. It might be helpful to bring them to your college visits.
To lighten your load for this coming senior year, I have a money-saving and sanity-saving idea for English. Cover quick essay skills now, using a curriculum that fits your needs and have your child practice often. Write one essay per week, perhaps using ACT or SAT essay topics. This will help your child get the best possible score on the SAT or ACT, while replacing normal English work to avoid overworking one subject area with test preparation.
Toward the end of 11th grade, switch to writing essays based on college application essay topics from colleges you both like. This will provide more essay practice and the essays can be used as a springboard for writing the real application essays when you start college applications on the first day of senior year.