Blogging is a great way to encourage writing skills, turn social skills into academic courses, and guide techie kids into using their computer skills while doing some writing.  Any skills kids use while blogging can be used for academics.
Blogging can be an English course, or you can have them blog about something they love, to provide written material based on delight-directed learning.  That may help you document the love of science or history with some writings.  They don't have to write a "paper" on a topic.  They can blog on it, and then save their blog posts as samples of their work for that class.  Blogging is great for kids who love being on the computers, because as they learn how to blog they get the very beginning concepts of computers and coding.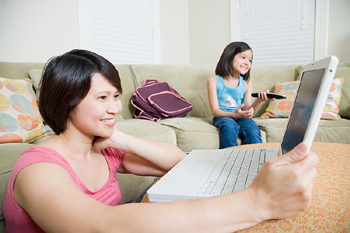 Do you have any suggestions how to help your student create a blog?  I see many web sites, but am skeptical to follow unknown advice.  Thanks for any tips.
~ Pam in Georgia
My sons recommend using one of the most popular:  www.blogger.com or www.blogspot.com or www.wordpress.com.  My son Kevin says, "Blogger is mainstream and self-explanatory.  Just google it, go to the site, create an account and the instructions are provided onboard.  Pretty easy."  My son Alex says "Either one is very reputable, and helps you through the process of starting a blog."   Both were able to quickly get a blog going.  The hard part is finding the time to continue writing!  It's been difficult for my college students to keep up with their blogs.

Do you Twitter?
Follow me here
!