What to do After Earning Scholarships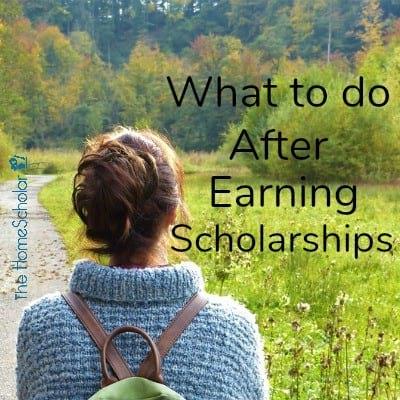 You've done the hard work and gotten the scholarships. Now what? Let me give you some tips on what to do next.
What to do if you have gotten some great offers of scholarships:

Compare the "bottom line" of what each of the colleges costs. It's not how much scholarship money you get, but the cost our of pocket that matters.

Compare again the statistics at each college: Guidance Counselor Pro Tip: Read College Statistics

Carefully read the rules for maintaining

scholarships

. If you must maintain a 3.50 or higher GPA, that's almost impossible to

do

at the college level.
Sometimes it's easy to see which college is the best choice, other times it's much harder. If it's hard to choose, this post may help: How to Make the Final College Decision
If finances are still a big concern, you can spend some time pursuing ways to decrease college costs by shortening the time spent in college. Look into CLEP, and check the CLEP policy at each school. This book will explain more: How to Homeschool College: Save Time, Reduce Stress, and Eliminate Debt

Spend time applying for private

scholarships

, and use the time and effort as your senior year English credit. This book explains how: College

Scholarships

for High School Credit: Learn and Earn With This Two-for-One StrategyThis is usually only an option if your child is not doing dual enrollment already.

If finances are "OK" and/or the student is resistent to CLEP or writing scholarship essays, then focus your attention on graduation. Graduate Your Homeschooler in Style: Make Your Homeschool Graduation Memorable

Use the "College Packing List" as gift suggestions for the holidays. By giving gifts they need for college, they will become more excited about the transition to adulthood.
If you don't have a senior yet, you may be wondering how success with
scholarships
can happen. You see, to actually get college admission and
scholarships
, you need to start the process of applying to college a full year before your child plans to apply.
Let me give you my one biggest tip for

scholarships

. You need to apply for college within the first two months of senior year.

Steffi wrote to me on November 5th to share her joy.

"Lee, I had to write you and let you know that today my daughter Katie received her first acceptance letter (email) from her first choice school! Tonight she got a phone call from the admissions officer letting her know that she had received their top merit scholarship, as well as an invitation to their Presidential Scholarship weekend, where she will compete for additional

scholarships

. The admissions officer told her that one of the factors in their decision to give her the scholarship and the invitation were her impressive homeschool transcript and course descriptions!! My first thought when I heard this was, "Wow, Lee was right!" Lee, I couldn't have done it without you and I give thanks to God for leading me to you!! Thank you for all your help and coaching over the last two years, I feel so thankful and blessed!!" ~ Steffi in GA

These reports of great news will happen when you concentrate, plan ahead, and take continuing education classes. Steffi, for example, use the Comprehensive Record Solution to help create outstanding course descriptions, the College Launch Solution to plan the application process, and the Gold Care Club to provide support and coaching. It's been such a joy to work with Steffi over the years, and such a thrill to see the fruits of her labors!

If you would like to learn more about scholarships, you'd love my free online workshop called "Super Scholarships for Humble Homeschoolers" You can afford college and earn BIG merit based scholarships you thought were reserved for the uber-intelligent or Olympic-level athletes. In this class you'll learn why merit scholarships provide the most money. I'll teach you which college admission test is best, the SAT or ACT, and why. I'll show you how to make SURE your child will stand out above the crowd, regardless of their gifts or challenges. You'll learn how to find a college that gives great scholarships, and the secrets to creating homeschool records that will reduce college costs.

Do you have a success story of your own? I'd love to hear it!
SAT®, AP®, and CLEP® are trademarks owned by the College Board, which is not affiliated with, and does not endorse, this blog post or The HomeScholar, LLC.
Stay Informed
When you subscribe to the blog, we will send you an e-mail when there are new updates on the site so you wouldn't miss them.
Comments
No comments made yet. Be the first to submit a comment