You are the high school guidance counselor. Although there are many ways to compare colleges and their statistics, you may need a book to help explain the differences between the colleges you are looking at.
My son is a junior this year.  Because he took the PSAT, he has started receiving lots of college literature via e-mail and through the regular mail.  How can we find out AND COMPARE the college's statistics such as the academic abilities of the students (i.e. what schools are more challenging and, therefore, harder to gain admission), financial aid stats, graduation rate, etc. . .  without having to spend a lot of time at each of the college's websites?

Thanks for your ministry to support homeschoolers!
~ Kimm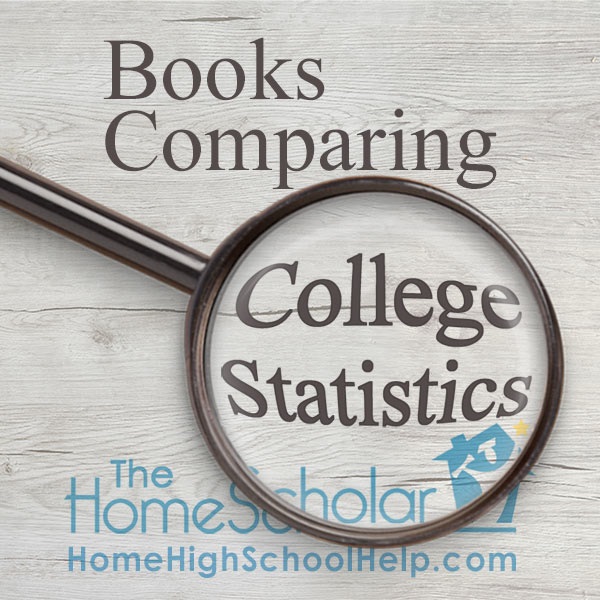 Hi Kimm,
That's a great question!  It is important to compare statistics, and I spend a long time discussing how to do that in my video called "
Finding a College.
"
There are many ways to compare colleges.  By far the BEST and  most  accurate way to compare is to visit the college; hands-down, no doubt about  it. Before you visit, though, it can help to compare statistics.  I used books; US News, Barron's, and Peterson's.  They all look about the same - like a huge, big city phone book.  Like a phone book, you don't have to read every page, you only read the portions you need.
Compare all these books while you're at the library, and jot down notes.  If that isn't possible, or you don't have time, then I would stick with the one by US News.  It's the best known, so if I had to go with only one I would go with that one.
For each college you have in mind, though, *read every single word about that college* in that book.  Some of the details are tiny but hugely important.  Of course you are looking for the major they offer, and housing, but it's more  than just that.  You want to know how much the average child pays (or gets in scholarships) and then see if your child is average in terms of the SAT or ACT scores.  You want to know how many years it takes the average student to graduate.  You want to know what percent are employed when they graduate - and what percent can get into graduate school.
Here are the links for those books.
After your research and college visits, your goal is to have 4-8 colleges where your child will be applying. Those colleges should be a mix of reach, fit, and safety - did you need to read more about that?
Reach, Fit, and Safety Simplified
Finish up all your college search stuff by the end of junior year, so the first day of senior year you are ready to apply to the colleges that are the best fit! I hope that helps!