What's Up with Reading Lists?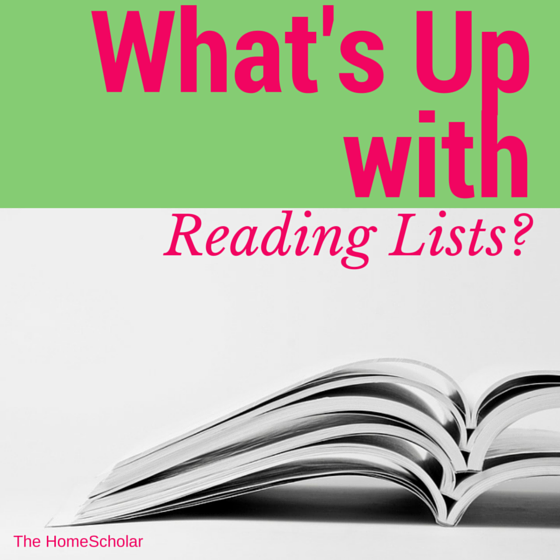 What's up with Reading Lists?
Every student should have a high school reading list as part of their college admission package. Each will be a unique reading list that reflects the child's unique abilities and interests. Online you can find many sites with 
reading lists for the college bound
.  They should not be used as to do lists, though.
Personal reading lists vary widely - depending on the child and how much the child loves to read. 
Some kids are doing well to read six books a year, and others may read 60. 
Because my own children are voracious readers, I chose to make reading lists broken down a year at a time. In other words, you may want to keep a reading list for freshman year and a different list for sophomore year. When I child is not so voracious about reading, then you probably want to have a single reading list for the entire high school period.
However you break it down,
the reading list includes everything the child reads
: reading for school (such as Jane Austen book), reading for pleasure (such as Harry Potter books), personal interests (acres and acres of chess books, for instance), professional reading (PC World Magazine, for instance), and audio books. Your child's list includes everything!
An "everything" list can be stressful when your child reads a lot. Believe me, with a voracious reader you don't need to include every single book they read for an entire high school period. You merely want to get enough books on the list to communicate a well read, voracious reader. For this reason, if your child has forgotten to write in their book list for a few months, but they still have a ton of other books on the list, you don't need to worry about it.
The "everything" list can be helpful for a child who hates reading as well. A very small reading list for freshman year can indicate a possible area for improvement for the following year. It may start with a conversation like, "Honey, six books aren't enough. What can we do to increase the number of books you read this coming year?" By keeping a reading list, even a short reading list, you will be able to assess the situation and make adjustments.
You can see an example of a reading list on my website here:
Sample Reading List
Those of you who use Sonlight Curriculum will recognize some of the books, but you can see that many other books are included as well. My reading list was just for my children, based on their interests. It included books they were required to read for school and also included books they loved to read for fun. I didn't include textbooks, because my children read
so
much I didn't need to fill out the list even more, but I know that some homeschoolers do include textbooks. My example of a reading list is for one year, but the reading list included
all
their reading for an
entire
12 month period and my kids are
prolific
readers.  Your reading lists should not look the same - they should reflect your child.
I used books in the reading list to make course descriptions. 
My course description included the text used, plus the books my child read as a supplement, as well as anything they did for that class.
Again, my reading list isn't meant to be a to do list, but one child's reading history. Your reading list should look completely different, and should represent your child's own reading history.

Click to Join my Newsletter!
Please note: This post was originally published in August 2009 and has been revamped and updated for accuracy and comprehensiveness.
Stay Informed
When you subscribe to the blog, we will send you an e-mail when there are new updates on the site so you wouldn't miss them.