What Goes on the Homeschool Transcript?
By the time you're finishing your student's high school transcript during their senior year, you may start wondering how you can possibly fit any more information on that one little page!  But make sure you've got all the important stuff there!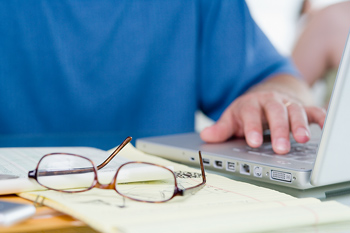 A parent recently asked me whether she should put her child's SAT scores and her grading scale on their transcript, and my answer, in general, is yes! 
Including this information on the transcript can imply that you have really thought things through and decided that 90-100 percent is an A. In that sense, I think that having a grading scale on your transcript kind of makes you look tough and cool.
As far as the SAT or ACT scores go, while it's not usually required on a transcript,
I suggest that if those scores make your child look like a genius, then put it on the transcript.
  But if your child didn't test as well as they had hoped, then don't put it on their transcript. Those test scores will be sent directly from the test company to the colleges you're applying to, so they are going to get the scores anyway.
By putting the test scores on the transcript, you're really just highlighting them. It's a way of saying "Oh, look! Look at this," which is one of the reasons why you want to
put it there only if it makes your child look really smart.
On the SAT, scores above 600 are very good, and scores above 700 are really excellent, since 800 is perfect.  It also depends on the child. If you have a child that is remedial in some way, then showing an average score on the SAT is going to make that transcript even stronger.
What is your experience with homeschool transcripts?

Stay Informed
When you subscribe to the blog, we will send you an e-mail when there are new updates on the site so you wouldn't miss them.
Comments
No comments made yet. Be the first to submit a comment