The High School Solution Review by Susan Anadale and TOS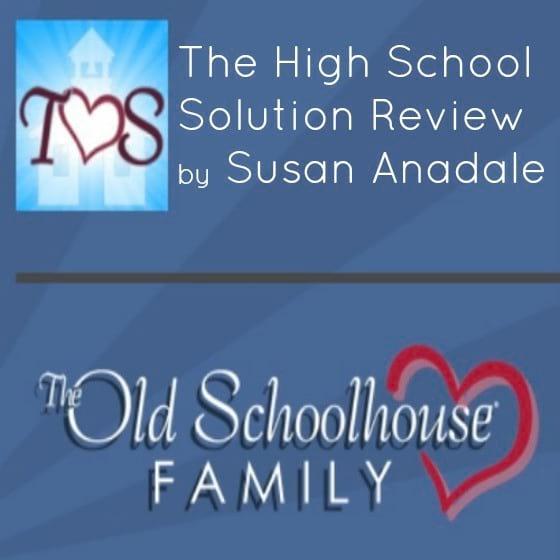 The High School Solution Review by Susan Anadale
and
The Old Schoolhouse® Product & Curriculum Reviews
​"Confession: homeschooling high school is a bit nerve wracking for me. Suddenly it seems as though there are so many i's to dot and t's to cross. What if I miss something and ruin my child's chances at getting into the college of his dreams?
The High School Solution is an online membership site designed to support and encourage parents who are homeschooling their children through high school. A veteran homeschool mom herself, Lee Binz shares the tried-and-true tips and tricks she learned while preparing her own children for college and while helping other homeschool parents do the same.

The $197 membership includes four core modules, four resource packs, four bonuses, and more. There is a 30-day money back guarantee.

The core modules are:

​"How To: A Complete Overview of What is Needed to Homeschool High School," includes a lengthy presentation delivered in two different formats (an online conference with slides and a live video recording). Also included are an audio for download, handouts, charts, and other resources.

​

"Ages: Detailed Instruction on How to Teach Each Grade," includes five webinars, all with handouts and supporting articles, covering the following topics: "Homeschooling Middle School with Powerful Purpose,""Freshman and Sophomore Year—Starting Strong,""Junior year Is the Key to Success,""Senior Year Step-by-Step," and "Options After High School."

​



"Stages: In-depth Training on Each of the Key Stages of High School," includes sessions covering: "How to Homeschool Independently,""Planning High School Courses,""High School Testing," and "College Admission and Scholarships." Each course includes printable handouts and links to various online articles to provide even more detailed information.

​



"Curriculum: Comprehensive Guidance on How to Choose Curriculum and Teach the Toughest High School Subjects," includes webinars on "Finding Curriculum That's Effective and Fun,""Advanced Math the Easy Way,""Simple Science for Homeschooling High School,""High School English in Plain English," and "Delight-Directed Learning." Each webinar is accompanied by printable handouts and links to various online articles.

​



In addition to the core modules, there is a lot of value packed into the resource packs and bonus materials. There's a course planning guide, sample course descriptions, sample grading criteria, weekly assignment sheets, three courses presented by Dr. Jay Wile, "College Prep Calendars" for middle school and each year of high school, monthly training webinars, 71%-75% off of Lee Binz's books, and more webinars, including: "The Art and Science of Motivation" with Andrew Pudewa and "TechnoLogic: Critical Boundaries for Children and Teens," a six-hour training series featuring experts in technology and web addiction.
​
Just reading the list of all that is included in this membership is probably a little overwhelming, but the membership site is well organized, and it is easy to find what you are looking for. The very first thing I did was to watch the short introductory video which explained how to navigate the site. From there, it was easy to get started by watching the webinar in the first core module: "A Complete Overview of What Is Needed to Homeschool High School." This same presentation can also be viewed as a live video recording of Lee speaking at a conference or downloaded as an audio to listen to later. This three-hour course gave me a run-through of the highlights of teaching high school. Much of this was information that I had heard before from other resources or from Lee Binz's own free webinars that she offers from time to time, but I had never heard it all together in one spot before.
​If you are just thinking about teaching high school at home, this first module is an excellent place to start. It will give you a run-through of what to expect, what you should be teaching, how to ensure that your high school program is college prep level, how credits work, how to put together a transcript, how to grade, and more. After watching this webinar, I was wondering what more was there to learn about teaching high school. Would the other information in the High School Solution just repeat what I had heard in the first core module?

​
As I viewed more material in the High School Solution, I came to realize how expertly each presentation builds off the previous one. While Lee is consistent in her message and does sometimes reiterate something that she has said previously, each webinar is substantially different and stands on its own as a course. I am impressed with the depth of information.

​



After watching the webinar on the middle school years and reading some of its supporting articles, I found myself wishing that I had known about the High School Solution when my oldest child, now a rising senior, was in middle school. It might have saved me a lot of sleepless nights. I am thankful to have these materials as my second child enters her eighth-grade year with my third child following close behind.

​



I breathed a sigh of relief while watching "Senior Year Step-by-Step." As my son approaches his senior year, I have been a little overwhelmed by all I need to do to make sure that his homeschool career ends successfully. Lee cleared those worries out of my way and gave me a practical plan to follow throughout the year. I came away feeling very positive about approaching this last year of high school and the college application process. I particularly appreciated how her presentation focused not only upon the practical aspects of senior year, but the emotional challenges that are to come as my child prepares to leave the nest.

​



I've also enjoyed listening to Lee's webinars on independent homeschooling and planning high school courses. Lee stresses throughout the High School Solution the importance of documenting your child's unique path in such a way that his talents and interests are apparent on his transcript. My own son's coursework is a bit nontraditional, and I have worried that colleges would not know what to make of his course titles and descriptions. I've come to realize what a great high school career he has had and how fortunate we are to have been able to homeschool him. I have stacks of index cards full of notes and a heart full of peace.

​



I recommend the bonus "Motivation Pack" for those who are living with a highly unmotivated teen. This course has two webinars, one led by Andrew Pudewa and the other by Lee Binz. There is so much wisdom in these two talks that I found myself nodding my head in agreement after my own journey through homeschooling a teen with little motivation and wishing I had heard them a few years ago.

​



All the webinars and video presentations in The High School Solution are conveniently broken up into shorter segments that you can access in the menu of the viewer, so it is easy to pick up where you left off if you need to leave and come back to a presentation. This feature came in handy for me as I often have to watch courses in bursts when I have some free moments. Having those built in breaks also encouraged me to stop and digest all the things I was learning. Each webinar is packed with so much information that it would be easy to forget half of it.

​



Whether you are just beginning to contemplate homeschooling through high school or find yourself in the thick of course planning and college requirements, the High School Solution is an indispensable resource. Lee Binz's practical advice and wonderful encouragement will build confidence and guide you through the joys and pitfalls of homeschooling high school. I wish I had found this resource a few years earlier, but I am happy to have it now as my oldest child finishes high school and his younger siblings follow closely behind."

​



-Product Review by Susan Anadale, The Old Schoolhouse® Magazine, LLC, July 2017

Stay Informed
When you subscribe to the blog, we will send you an e-mail when there are new updates on the site so you wouldn't miss them.
Comments
No comments made yet. Be the first to submit a comment