The Dreaded "S" Word: Socialization
Recently I was talking with friends online about the dreaded "S" word: socialization. I wondered whether it was still a common question, and how other parents handled it. I got quite a variety of different responses, and thought you'd enjoy hearing some of them!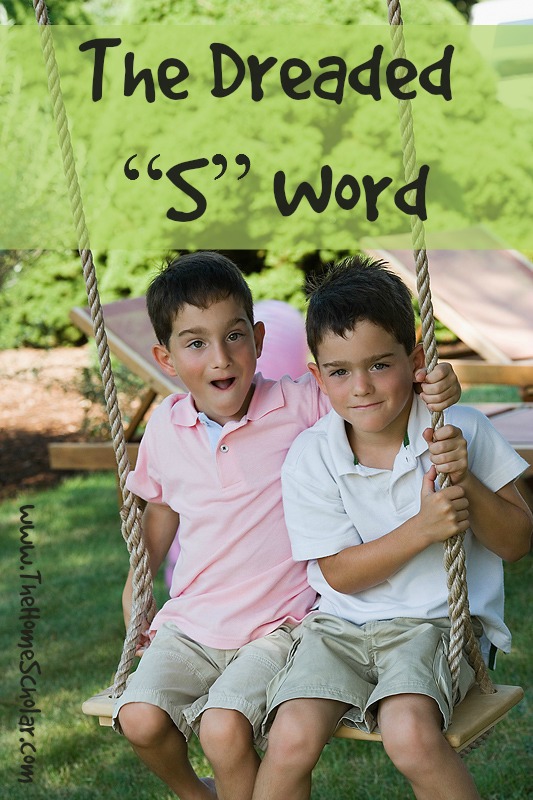 The Dreaded "S" Word: Socialization



"We heard many a doubt expressed by friends, extended family, and others regarding homeschooling through high school. Our two oldest are now attending private colleges, on scholarship, and doing extremely well. They aren't lacking in social skills, either! Now those skeptics are finally coming around."
- Chris



"My neighbor kids who go to public school were going to have a birthday party, but did not feel comfortable inviting the neighborhood kids because they did not know them well enough. These kids have been in the neighborhood almost as long as mine, have played with the neighborhood kids, ridden the bus with them, and attend school with them. My kids were asked to do the inviting, because they know all the kids in the neighborhood, and they all like them so much. My kids are homeschooled, and only get to see the neighborhood kids occasionally during the week and on the weekend. I loved the fact that my kids were more socialized then the birthday kids!"
- Sara



"We were at our local nursing home recently to play music for the residents. Coincidentally, the bookmobile was there the same day. The librarian asked my daughters if they were homeschooled, and when one of them answered affirmatively, the librarian said, "Yep, I could tell." My daughter asked her how she knew, and the woman said, "You have better socialization skills." I about fell over."
- Sally



"We had taken a goat to the vet. While there, a woman approached me and asked if our children were homeschooled. The children in unison answered proudly, yes. She had a great smile on her face and was proud of herself when she said, "I knew it." I asked her how she knew, and she said," there is just a remarkable difference in homeschooled children. They are more polite and better behaved as well as more engaged in conversation. Over all, they are well mannered, friendly, are always dressed better, and hold themselves better. I can't explain it, but the homeschool children I have met have always brought me joy."  She then concluded with, "Keep up the good work." I looked at her in amazement, and thanked her on behalf of all the homeschooling parents who work so hard in raising their children right. For me it just confirmed that I was doing the right thing."
- Tonya



"When parents who are interested in homeschooling ask me about socialization, I ask them to tell me what "socialization" means to them. Simply put, a child who is socialized is one who is aware of social rules and nuances, so he is able to get along with others well. This includes being able to communicate well, being at ease with others, responding appropriately to bad behavior, having manners, knowing basic etiquette, etc.  That said, the more important question comes to light: "WHO is doing the socializing?" Once people think about that, most agree that peers are a poor substitute for parents when it comes to influence in socialization.
It's funny this topic came up today. Not to brag or anything, but this past week, our youngest child and I visited two of the four college campuses that he is considering attending. At both campuses, a professor, an admissions counselor and someone in reception who spoke with our son, later told me how impressed they were with his manners, politeness and ease at conversation, saying that it is especially rare to find a student with those qualities these days.  Socialization? No worries!
- Debbie



"God did not plan for children to have socialization among their peers. If that had been His original plan, He would have given us litters like cats and dogs. Instead, His plan is for our children to get along with family members – parents, siblings, grandparents, aunts and uncles, and cousins – and neighbors, etc. When our children grow up, they will never find a work setting, church group, or social setting that only consists of their age groups. Why do we bother with it while they are young? My three sons are three years apart. It takes a lot of socialization for them to get along on a daily basis, but their interaction teaches them how to lay down their agendas and sacrifice their desires as they compromise with one another to keep peace in the household."
- Cindy



"We live within short walking distance of a public golf course, and during the summer months my sons (11 & 13) walked to the golf course and began picking up random balls from the driving range and taking them to the Pro shop. They would do this several times a day, as this was something to do in their spare time and was helpful. They told the manager of the Pro shop that they did not want anything-only to be helpful. This arrangement soon morphed into the boys being paid well for their service, being given added responsibility (like weeding around the water hazards,) and the boys were given firm offers of official employment once they are legally allowed to hold work permits. The manager told me that he was so impressed with the boys' work ethic, manners, ability to interact with the members and the management, that our family was given special permission to be pedestrians on the golf course path, enjoying the beauty of the course, amid signs every 200 feet that say "Absolutely NO Pedestrian Traffic"!  I laugh when I think about the "antisocial" people my children are as compared to their socially well-adjusted peers who spit, swear and are disrespectful. I'll keep my socially "awkward" kids, thank you very much!"
- Amber
Sometimes it seems that questions about socialization will be around forever! These are great examples of the good socialization that happens with homeschooling, and these parents have found some great ways to engage others on this topic. I know we all get tired of this question, and we're tempted to give flip answers sometimes, but be encouraged! Your kids will grow up some day, and be a walking, talking testimony to the great benefits of real world socialization!
Feel free to share YOUR stories!  Leave a comment here!

I am now writing for the "Seattle Homeschool Examiner."  You can find great
homeschool articles
when you check out my column!
Stay Informed
When you subscribe to the blog, we will send you an e-mail when there are new updates on the site so you wouldn't miss them.