Playing Christmas School
When our kids were in high school, we cut WAY back on homeschool work during December, because there's so much more going on during this time.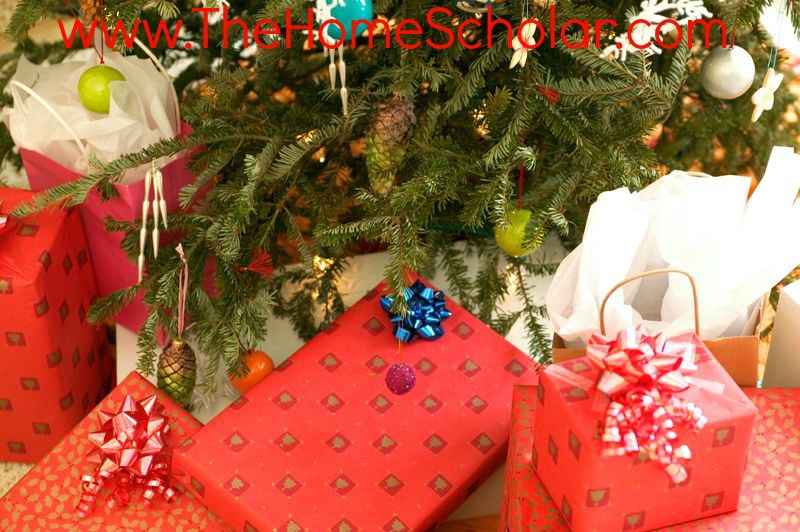 We did school for about 3-4 hours a day. Like public schools do during half-days, we crammed the core subjects into the morning, and took the rest of the day off.  We covered math, foreign language, science (sometimes), journal writing, and reading. Our boys loved reading, so nothing I could do would make them stop reading their beloved books.
After finishing their schoolwork, they helped with holiday things.  They wrote Christmas cards, composed a Christmas letter, shopped, budgeted and bought gifts, helped decorate, baked, and delivered gifts.  Most of the time, though, they just  "did their own thing."  I kept them away from computer games and the TV, so they entertained themselves in ways that didn't make them brain dead.  I found out later that "doing your own thing" meant you were actually learning something too!  They were reading, playing educational games, and working on real projects.  It was all learning; it just wasn't all school learning.
Some of the great Christmas literature that we focused on during this time included "
Norman Rockwell's Christmas
," one of my favorites. Girls might particularly enjoy
"Little Women"
or Louisa May Alcott's
"Christmas Treasury"
of Christmas theme literature.  "The
Gift of the Magi
" by O. Henry is also a great Christmas book. Although many people read it as a tradition during Christmas, it's also one of the great works of literature that high school students should read, so make sure to put it on your high school reading list.

Learn how to translate all those great homeschool high school classes into the words and numbers that colleges will understand.  Get the
Total Transcript Solution
!
Stay Informed
When you subscribe to the blog, we will send you an e-mail when there are new updates on the site so you wouldn't miss them.
Comments
No comments made yet. Be the first to submit a comment