Strategy for Community College Classes
When thinking about community college credits, it can be useful to think about it being "proof" or external documentation of the different areas of education.  When you look at it that way, you want to have at least one class in each of the following areas: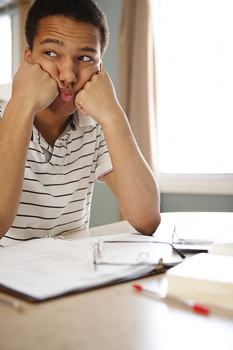 * English
* Math


Social Studies/History


Science with Lab


Foreign Language


PE


Fine Art


Math and foreign language are especially difficult at that level, because they move so much faster than high school classes and the material builds on each concept.  If you have to take both math and foreign language during a single semester of community college, it may be quite hard.  Try to ensure the third class is REALLY fluffy class taken at the same time.  The third class should sound "fluffy" in the catalog, but also check the "rate my professors" website, to be sure the teacher is also easy. Taking three heavy classes at a time is not recommended unless you have a very academic child who wants to take all three classes and thrives from in a challenge.  You want to try to guarantee good grades as much as possible.
Since you have two years of community college, there is no real rush for the other classes.  The difference with community college is that you aren't taking all the classes all at once, you are only taking three at a time. Don't think you have to take them all at once.   Spreading them out, with a good mix of difficult and easy, can ensure success.  When community college is your external  documentation, you really do want to ensure success.
If you are thinking about community college, remember that it is a "Rated R" environment that is not recommended for everyone.  Please read my article about community college if you are considering this option. Facing the
Community College Fad.

I am now the Seattle Homeschool Examiner.  You can read my homeschool articles here.
Stay Informed
When you subscribe to the blog, we will send you an e-mail when there are new updates on the site so you wouldn't miss them.
Comments
1
[...] This post was mentioned on Twitter by Bethany LeBedz, Lee Binz. Lee Binz said: #Homeschool strategy for community college classes - #homeschool [...]
[...] This post was mentioned on Twitter by Bethany LeBedz, Lee Binz. Lee Binz said: #Homeschool strategy for community college classes - #homeschool [...]