"Saxon Math and Phonics" Resources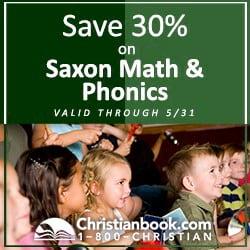 If Saxon is a good fit for your child, now is a great time to buy. Saxon Math is having a great sale until 5/31, if you are looking for a deal on Saxon Math and Phonics resources!
Warning: This post contains affiliate links. If you click and buy I may make a few pennies, but not enough for a latte. Even so, I think you'll want to save money!

Now, I know what you're thinking. You're thinking, "Saxon???" and "Math???" But I have to tell you, I used Saxon Math with my children during high school and it was a great fit for them.
And you know the kids need math, right? (And, of course phonics for the younger guys, too!) Here's the thing... if Saxon works, keep using it. If it doesn't work for your child, then make a change. But if Saxon is a good fit, why not grab it while it's on sale?
Stop whining! I know the year hasn't even ended yet, and I'm asking you to think about curriculum for NEXT year, but really, I'm just trying to save you some money.
Go get it NOW - before the sale ends on May 31! Go - you can thank me later!
Stay Informed
When you subscribe to the blog, we will send you an e-mail when there are new updates on the site so you wouldn't miss them.
Comments
No comments made yet. Be the first to submit a comment