With any curriculum, it's the FIT with the child that is the most important consideration. No matter how wonderful a curriculum might be, it has to be interesting and engaging, so the child can learn.  I have to say, this new curriculum was a great fit for me and my husband, and we learned a lot from it.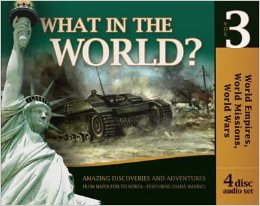 I was thrilled to be able to look over Diana Waring's new addition to history, called "History Revealed, Volume 3: World Empires, World Missions, World Wars (AD 1800–1900)" by Diana Waring and Answers in Genesis. It looked beautiful, of course, as all new curriculum will look. Anybody who's familiar with Diana Waring's history books knows that they are unique in the world of homeschool history curriculum.  Written from a biblical worldview, extraordinarily comprehensive, and adaptable to any student's individual learning style, the only thing I have to complain about is that this curriculum wasn't around when my own children were homeschooling!
Like her previous volumes, Volume 3 of Diana's world history series, World Empires, World Missions, World Wars overflows with exciting, well-written resources that will engage your students. My husband actually unpacked the box when it arrived, and was blown away by everything that's included: a student text, a teacher's guide, 3 different CD sets, an elementary activity book, and test resources. In fact, once he started listening to the CDs, he took them in the car everywhere he went, and wouldn't let me have them back until he was done!
After I'd read and listened too, I knew why he was so impressed.  Too often it seems as though our study of history, even when we come at it from a biblical perspective, tends to artificially separate out events into either secular or sacred.  We read about wars, then we read about missionaries, then we read about cultures, and then we read about spiritual movements—all separate from each other. If you want your children to study history in a way that includes God's activity and involvement in the lives of individuals and nations, this is the curriculum you should use.  Diana weaves the events of history together in a way that helps your students understand that historical events don't happen in isolation, and that God has been intimately involved for millennia in the affairs of men.
While the biblical emphasis is enough to set this curriculum apart, the capstone to History Revealed is how it meets the needs of students with different learning styles, providing activities for every mode: "thinkers (just the facts, ma'am)," "feelers (let's do it together!)," "intuitors (I have an idea!)," and "sensors (let me get my hands on that)."  My children learned primarily through reading—they were mostly "thinkers—but I know that if we'd used the CDs that accompany this curriculum, all that time we spent in the car driving to lessons would have been turned into some great learning time. We loved using 'living books' in our homeschool too, and History Revealed utilizes many of them in its study of the geography, music, art, science, etc. of each time period.
Diana's enthusiasm and love for God's unfolding plan sparkles forth from both her written and spoken word, and you can't help but become enthusiastic along with her when you read and listen! You can tell I'm a fan—and I think you will be too.
You can find Volume 3 of History Revealed at many curriculum providers including 
Christianbook.com
 and 
Amazon
.

Grab a copy of my quick and easy to read kindle book:
Homeschool Curriculum That's Effective and Fun
.