As I often say on this blog, our goal as homeschool parents is NOT to teach something. Our goal is for our kids to LEARN.  Sometimes they will learn how to learn a subject on their own, without having a teacher teach them.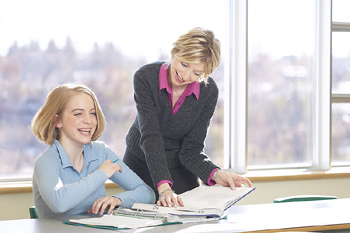 I believe that older teens MUST learn how to teach themselves. If they go to college, they will be expected to learn all the textbook material on their own. College lectures are most often supplemental to the textbook – not the same. If they don't go to college, they will still have to teach themselves some computer skills, or online banking, or how to buy a car – whatever. Learning to teach yourself is a critical life skill.
I could have taught my kids "at grade level" and they would have not learned a thing. Instead, I gave them curriculum at their ability level, and then they had to learn something that they didn't already know.  When we got into high school, some of things that we "at their ability level" were truly above my ability level.  I thought I was stuck, and unable to teach them.  I felt inadequate.  How could I teach them subjects I didn't know myself?
My kids taught themselves Advanced Math (pre-Calculus) and Calculus. They taught themselves physics.  I gave them the answer key and the textbook, and they read the books and worked on their daily work using the answer key until they felt comfortable with the concepts.  I know they knew the material because I gave them the tests.  When I gave them a test, I went shopping, taking the answer key with me.  When I returned from the grocery store, they were done with the test, and I would use the answer key myself to make sure my kids answers matched the answers on the key.  The answers had to be exact, because I didn't know what the calculus symbols meant.  If the answers weren't exact, my children would contact the email or telephone support provided by the homeschool textbooks to get some clarification.
I could have taught them Biology and Chemistry (because I'm an RN and I know that stuff) but they actually taught themselves that as well. It just worked out better for us when they were teaching themselves, while I just checked up on them from time to time. Alex taught himself economics, and is now doing graduate level work in economic thought (we've been told by his professor.) He even taught himself psychology and business law, because he got fabulous grades on the college level CLEP exams in those subject. Your children may not teach themselves in EVERY subject, but parents can feel confident in allowing their children to learn things on their own. When children use a video tutorial for the first time, that does NOT mean the homeschool parent is a failure, and failing to teach.  Instead, it means the child is becoming an adult, and learning how to learn by teaching themselves.
Here's my point: kids will teach themselves something when they are interested in it. It's fine for kids to do that, and it works out great for kids that are working on an intensely academic, college-prep curriculum as well as for kids that are in a relaxed homeschool environment.

I've recently been connecting with friends on LinkedIn.  I invite you to send me an invitation if you want to connect with my business.