To keep young gifted children challenged, you can go faster through core subjects, but it can be easier to go wider, and experience many different subjects. This can help you to feed their desire to learn more, but without the negatives that come with material that is above their maturity level.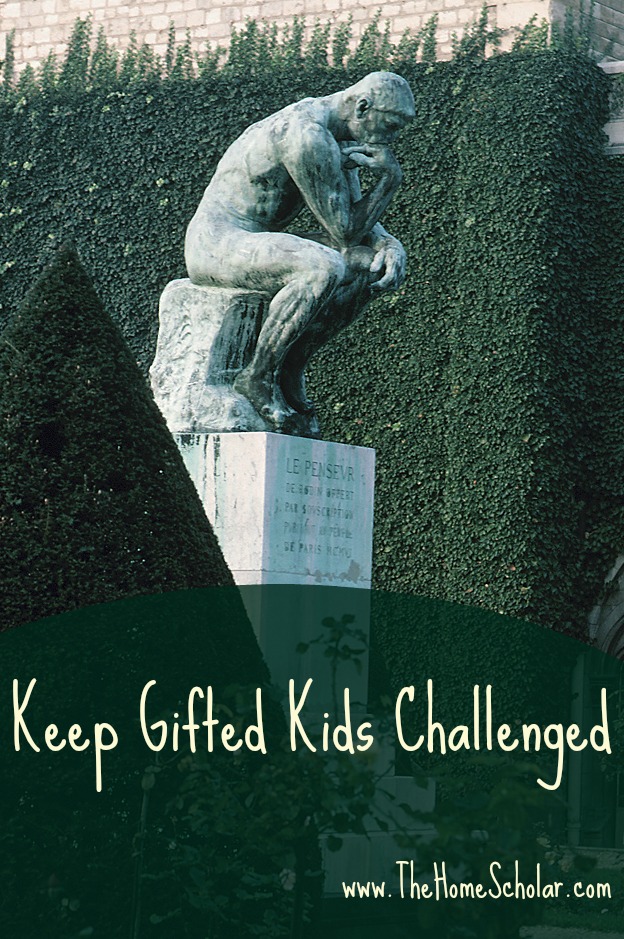 This post contains affiliate links. If you click and buy I may make a few pennies, but not enough for a latte.
Keep Gifted Kids Challenged
Here are some options for you to consider to keep your gifted kids challenged.
Building Thinking Skills, book 1, 2, and 3 are reproducible books that develop critical thinking skills in reading, writing, math and science. My kids thought they were fun - like doing a crossword puzzle or something. I don't usually recommend every book from Critical Thinking Press, because some feel too "schoolish" for me, but we did like these books when we used them.
Building Thinking Skills Book 1- elementary
Building Thinking Skills Book 2 - middle school
Building Thinking Skills Book 3 Verbal- high school
Building Thinking Skills Book 3 Figural - high school
Logic and Latin are great for keeping thinkers thinking!
Introductory Logic Workbook
Introductory Logic DVD
If your child is geeky, try to find an intensive program that can let them learn at their level while competing in the field.
Lego Robotics program
www.legoengineering.com/get-started/
Speech and Debate Clubs
NCFCA: National Christian Forensics and Communications Association
STOA: Christian Homeschool Speech and Debate
And remember that anything your child loves can be encouraged at the high school level, and you can put it on your high school transcript, even if you didn't intentionally teach it as a "class."
Encouraging Delight Directed Learning at the High School Level
Delight Directed Learning: Guide Your Homeschooler Toward Passionate Learning
Sometimes quality literature is just the thing to feed the flames of passionate learning. If you need to keep your reader challenged, check out my reading lists.
The HomeScholar College Bound Reading List
Classic Christmas Literature for High School Students
7 Ways to Encourage Reading in Middle School
Printable reading list for Middle School
Parents with gifted children face unique stresses in their homeschool. If you would like more information on gifted children, these resources can help.
Free Article: 13 Tips for Teaching Your Gifted Teen
$3 Kindle Book: Gifted Education Strategies for Every Child: Homeschool Secrets for Success
$15 e-Course: Gifted Education Strategies for Every Child (Online Training)
Personal Support: Gold Care Club Membership
If you have a gifted child, what has been your favorite supplement?