Warning Gifted Children Can Burn Out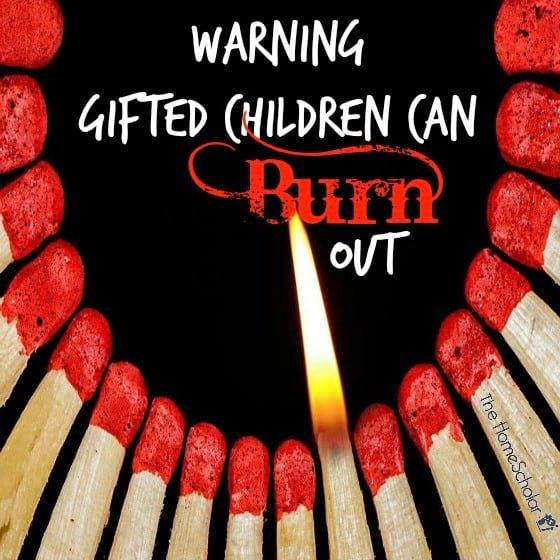 It's a challenge to homeschool gifted children. Your job: keep curriculum challenging, but not overwhelming. Making sure curriculum is academically appropriate and socially appropriate at the same time is extremely difficult! If you add too little challenge, the kids become bored and may "hate school" and become low functioning adults. Provide too much challenge, and they may burn out, and the love of learning can be snuffed out.
We live in a workaholic culture, but we are trying to raise children who function well in a family, not just rise to the top of the corporate ladder. Teach them to find balance in their personal life now. While keeping them challenged, make sure they have enough time to relax with family, share meals together, and have unscheduled free time that all adults need.
The constant pressure to succeed and excel can become overwhelming. With too much pressure, gifted children may choose laziness over extreme achievement. Strive for the middle ground. Your child may want to work on academics for up to 8 hours a day, much like an adult might work that long on the job. But if your child works longer than that, then the pain of their giftedness may overwhelm the benefits of learning.
In public schools, it's rather common for a gifted child to experience burnout. Either they are not challenged enough, or they strive to become the best in the class with an unholy inner drive. We can do better by continually monitoring our expectations. Be sure your child has appropriate curriculum for their ability and their emotional age, and be sure they are working hard yet not working too long.
I loved this list of "Seven Realities for Successful Transition From Adolescence to Young Adulthood" from BrainyChild.com
Reality # l: Remember that the real basics go beyond reading, writing and arithmetic.

​

Reality #2: You can be good at something you don't enjoy doing.

​

Reality #3: You can be good at some things that are unpopular among your friends.

​

Reality #4: Life is not a race to see who can get to the end the fastest.

​

Reality #5: You have the ability to ask questions which should have right answers, but don't.

​

Reality #6: It's never too late to be what you might have been.

​

Reality #7: A life's career is not a life sentence.

​
Once gifted children grow up, they are faced with adulthood. Gifted adults may also be prone to workplace burnout. Teaching your child to handle their abilities while still have free time to enjoy life is a key to helping them become thriving adults.
Learn more about gifted education by checking out these two resources.

Stay Informed
When you subscribe to the blog, we will send you an e-mail when there are new updates on the site so you wouldn't miss them.
Comments
No comments made yet. Be the first to submit a comment