Debt Free and Tuition Free College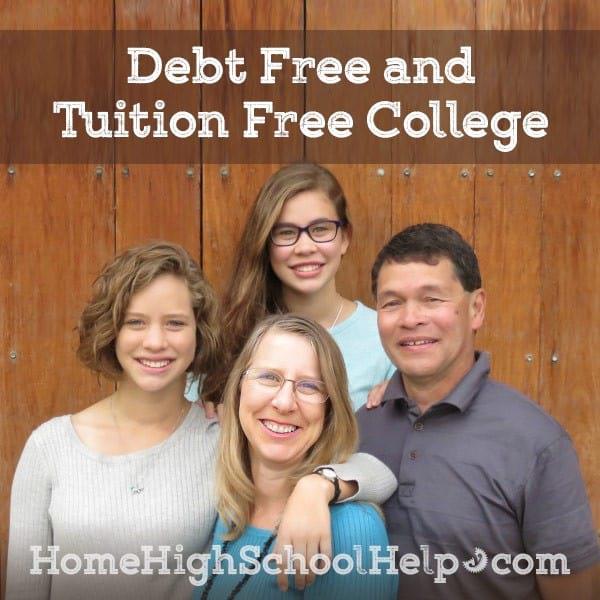 Debt free, tuition free college doesn't sound possible, I know. But, it is! Follow these pointers and read about how Tracey did it!
Parents need to be engaged in the process.
Learn how to homeschool high school BEFORE high school.

Get encouragement and feedback along the way.
Tracey's daughter is finishing the college selection process. It looks like both of Tracey's children will have a debt-free, tuition-free college education. This is what she wrote to me about her experience.
Dear Lee,
As one of your Gold Care Club members, I am so excited to share our good new with you regarding the Sonlight 2017 Scholarship Winners. We are so proud of our daughter, Kiana, for being selected for the top scholarship of $20,000. Thank you for all your help in preparing her transcript, commenting on her essays and completing her comprehensive file.
I am so thankful that I discovered (and purchased) Setting the Records Straight BEFORE my girls began high school.
You taught me to keep excellent records throughout high school which made for a much more impressive Comprehensive File (since my memory would not have served me as well as all those sticky notes!).Just for fun, I counted how many of your Coffee Break books I own and have read on my Kindle—nineteen!! They have been my tools and encouragement along the way and it is so exciting to see the fruit of all those efforts now.
Kiana has been accepted to 6 Christian colleges and was invited to apply for Honors programs, multicultural scholarships and other scholarships at all 6. She was interviewed (by Skype since we live overseas) for full-tuition scholarships at two of the colleges. Now, we are just waiting to hear the results over the next few weeks.
Our older daughter is finishing her sophomore year at Calvin College and received scholarships and financial aid that covered her complete cost. She also won Sonlight's top scholarship two years ago! She has not had to take out any loans and has not had to pay for anything so far except books! Amazing in this day and age of private college tuitions!
Again, thank you for being a part of our journey. I am always excited to recommend your website and materials to anyone who homeschools!
Blessings,
Tracey Pieters in Mexico
I'm so proud of Kiana and her mom! Way to go, Ladies! You were engaged in the process, worked hard on every aspect of applications, and now you have a lifetime of debt-free freedom to show for all your hard work!
Stay Informed
When you subscribe to the blog, we will send you an e-mail when there are new updates on the site so you wouldn't miss them.
Comments
No comments made yet. Be the first to submit a comment