Kathleen's Two Favorite Tips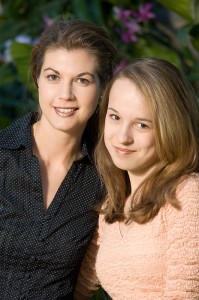 Kathleen shared her two favorite tips for homeschooling high school.
1. Start transcripts as soon as your child is doing high school work.
2. Save every academic thing in a folder so you can use it later.
Read her experiences here, so you can be encouraged too!
Dear Lee,

I wanted to let you know how much your newsletters have meant to me. My daughter, Michaela, is graduating this year and she has already been accepted to the 4 private Christian colleges she applied to with the highest academic scholarship award from each one. She has been invited to participate for a full-tuition scholarship at two of these colleges. We are currently preparing for that, as well as a music scholarship for the worship team and another for theater. Your newsletter this month ( How to Win a Scholarship Competition ) was providential in giving me more insight on how to prepare for the interview coming up next month. Michaela also plays basketball and we are still hoping that she may be asked by one of the coaches to play with a partial scholarship since this has been her goal throughout high school. We are believing that God will pave the way so that we can combine scholarships that will enable her to attend college without incurring any debt.

I knew once we hit Michaela's junior year it would start to get crazy. The BEST thing I ever did was start Michaela's transcripts when she started doing high school work--and that was in 8th grade. And every time we did something, a college class or a field trip, a Joyce Meyer Conference (for Bible), or a missions project, anything, I printed it off the internet, dated it, and put it in a folder.

That little nugget of advice from you has SAVED me. One of Michaela's questions on her essay scholarship is what kinds of extra-curricular CULTURAL activities have you done? Whaaaat? I started to panic until I got into my little folder and realized that Michaela had gone to the San Diego Latino film festival and the San Diego Latino museum for her extra-credit coursework in Spanish at the college. Though not terribly huge, we have SOMETHING to fill in the blanks.

My 15 yo (sophomore this year) took the PSAT last October and scored 185. She's nearly done with high school because she's done most of her high school coursework with Michaela, except for 1 math and 2 science classes and a couple electives. She started taking Spanish last year at the local CC and she'll be taking chemistry in the fall as well.

I was just too busy to try and help Michaela prepare to CLEP, and some of the colleges she was accepted to won't take them anyway, but the plan for our next daughter is to focus more on CLEPS because she's nearly done with High School now.

Again, had it not been for your wonderful newsletters and all your advice through the years, my daughters would not be in the position they are today. So if you ever feel like what you're doing is not worth it... know that you have been a tremendous blessing to me, to my daughters, and to so many other families.

What you are doing and have already done is empowering so many parents to take control of their children's education and send a strong statement to the government that "we won't allow them to brainwash our children."

Thank you so much for all that you have done for us.

Kathleen

Subscribe to my YouTube channel.  You'll  get notified when I create new videos on homeschool high school topics!
Stay Informed
When you subscribe to the blog, we will send you an e-mail when there are new updates on the site so you wouldn't miss them.
Comments
No comments made yet. Be the first to submit a comment