Junior High is Training Time for Parents
Junior High is Training Time for Parents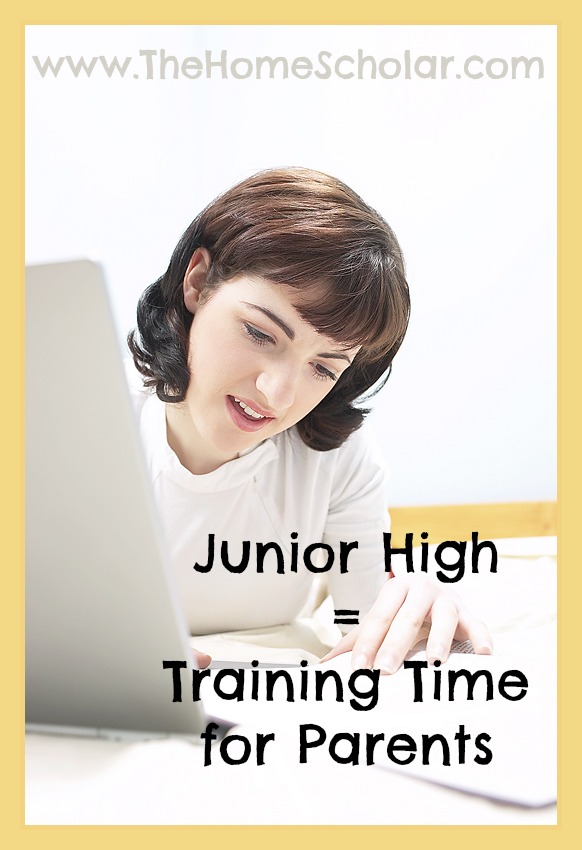 Junior High is a great time for both homeschool parents and their students to get ready to homeschool high school! During 6th, 7th and 8th grade, parents should be spending time learning how to homeschool high school. Take classes on homeschooling high school at a convention or online convention, read books on how to homeschool high school, and visit the
College Board®
website to check out their college prep plan.
In addition to this preparation, junior high is the time to practice your record-keeping skills. You can practice making your transcript, record-keeping, and writing course descriptions. This will prevent you from panicking when you get to high school!
Junior high has a purpose for students, too. Allow them to do remedial work where they need it. If they are below grade level in math, for instance, junior high is the time for them to focus on math and get up to grade level again. Children who are ahead of grade level can move straight into high school level work. A student might need remedial work in some areas and advanced in others, so both of these situations might apply to the same student.
The good news about junior high is that it's absolutely impossible for you to be behind. If your child is below grade level and they're in 7th and 8th grade, then the purpose of 7th and 8th grade is to get them up to grade level again. You haven't done anything wrong and you're just exactly where you should be.
If you're ready to go beyond the basics of junior high, one of the things you can do is plan your high school courses. Get a rough draft started, including English, math, science, and social studies each year, and consider beginning a foreign language. This is also a great time for your kids to begin establishing good study skills so they understand what will be required in high school.
Lastly, junior high is a good time to investigate college financing. Learn about the different investment plans that are available, try to start setting money aside now, and estimate the financial aid you might receive. Use the FAFSA forecaster, at
http://www.fafsa4caster.ed.gov
, which will help you estimate how much financial aid colleges might give you. Prepare now for high school and those years will be so much easier!

Please note: This post was originally published in November 2012 and has been revamped and updated for accuracy and comprehensiveness.
Stay Informed
When you subscribe to the blog, we will send you an e-mail when there are new updates on the site so you wouldn't miss them.
Comments
No comments made yet. Be the first to submit a comment