International Travel Tips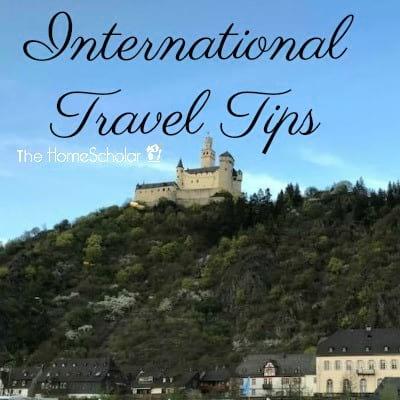 I was recently on a European River Cruise, and lots of people have been asking me for advice on international travel. Since this was my first time, I was really nervous. I relied a lot on my daughter-in-law, because she has done a lot of international travel with her family, on mission trips.
Our trip was on the Uniworld ship, River Empress, Remarkable Rhine Cruise. You can see some of our photos here: Binz Family German Recipes.

I didn't have a lot of time to educate myself before the trip, and I really regret that. I wish, wish, WISH I would have watched this class before leaving - I'm going to check it our from our library: The Foundations of Western Civilization. Because I had no idea that I'd be seeing Roman ruins... I couldn't remember who Charlemagne was... it was just embarrassing how little I remembered from high school! I wish I would have reviewed some phrases in French and German before leaving, too. There are certain things you really NEED to be able to say, especially: "please, thank you, and where is the bathroom?"

We loved being on a river cruise because they are all-inclusive, and we didn't need to purchase excursions. Having a tour guide provided for a portion of each day made for a very relaxing tour, without the worries of getting lost in a city that doesn't speak your language.

I do have some travel tips! This was our first overseas trip, and yes, I'll admit I was terrified! Here is a list of purchases that we used the most.

We were thrilled to have packing cubes (my daughter in law gave this tip to me - she has done tons of overseas mission trips!) Gonex Packing Cubes 9 Set Luggage Travel Organizers
I was also very thankful for this particular travel pillow, and used the cheap eye mask too. JINTOP Travel Pillow Machine Washable Scientifically Proven Super Soft Comfortable for Neck Head Support

Because you'll be sitting still so long, as a nurse I can tell you it is surprisingly important to have compression socks. These are cute: HLTPRO Compression Socks for Women & Men for Running, Crossfit, and Travel

You need a travel adapter, so that you can plug in your phone or other devices. Universal Travel Power Adapter by EPICKA Wall Charger with AC and USB for Cell Phone Tablet Laptop

And you're supposed to take a surge protector. I think it's a good idea, because we did notice some surges onboard the ship. Belkin BZ103050-TVL Mini Surge Protector with USB Charger

The brightly colored luggage straps we used were very helpful keeping our luggage together, and kept others from mistakenly claiming our bags. WeBravery Adjustable Luggage Strap Suitcase Belt Bag Straps

Because I already travel a lot for business, we already had a travel scale, but it's important to make sure your luggage isn't overweight. Etekcity Digital Hanging Luggage Scale, 110 Pounds, Silver

If you are traveling with children, know what you will be seeing, and ensure that it's family friendly. My biggest tip: If your family is travelling to Amsterdam, do not take your children to the Red Light District. While "the oldest profession" is legal there, they keep women behind full-wall windows, like a department store display, as if they are for sale, unclothed as you walk by. And our guide confessed that 20-30% of those women had been stolen from other countries, against their will. The details of frequency and price and disease.... NOT something for people of any age - including myself. Anyway, I was even more shocked than when I found out the Aztec religion is still active in Central America.
I think the thing that surprised me the most about international travel was how many times you have to go through security. For example, when you have a layover in another country, even for a short time without leaving the airport, you have to go though security again - and so do your bags! So if you stop in Munich, Germany, you get off the plane, go through security so they let you in the country, pick up your checked luggage. Check your luggage into the next airplane, go through security again, get scanned again. And it seemed like we had our carry-on luggage searched each time. One time we ended up being questioned 4 times (by 4 different agencies) just to get off and on another plane just to continue on our journey!
If you have traveled overseas, what can you suggest? Anything to add to this list?
Comments
No comments made yet. Be the first to submit a comment