How to Grade English Papers over Summer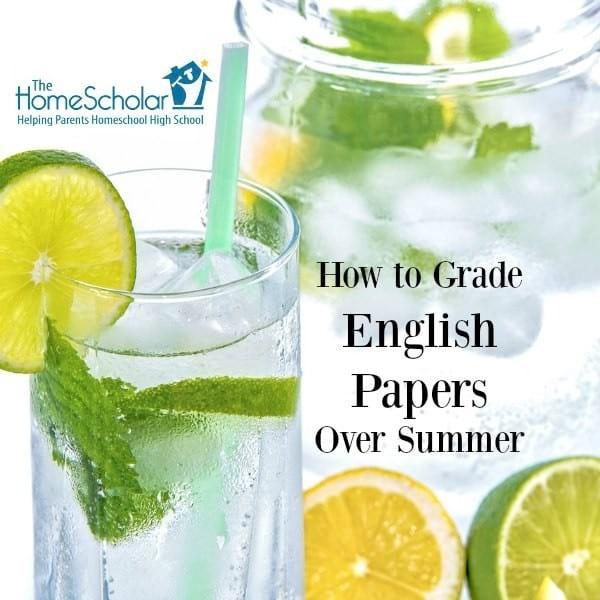 Staring at a pile of English papers that need a grade? Here is how I suggest that you grade right now, during summer, so you can get the job done and get back to having fun.
You can use this grading scale to put a grade on each paper, or if you prefer, don't grade the paper and just use this to give a final grade for the class.

• Grade A or 4.0: means mastery, and the child meets high expectations, has high test scores, the child loves the subject, or the parent is not annoyed with what the child has done.
• Grade B or 3.0: is good, but certainly not worth an A, or the parent is somewhat annoyed.
• Grade C or 2.0: is not very good at all, the parent is both annoyed and disappointed, but kept going onto the next level in the subject.

Grade the final product. Not the messy "sausage-making" process of writing, but the final "kielbasa off the grill" RESULT of writing.

Andrew Pudewa himself recommends this grading scale - he and I are business buddies and talk about this stuff. Weird, I know. This is how he suggests parents grade.

• Grade A or 4.0: means "Acceptable"
• Grade B or 3.0: means "could be Better"
• Grade C or 2.0: means "Come on! Try again!"

The reason why we grade English over the year is to give the student feedback to get better. Grading criteria and tools are a tool that you can use during the year to give your child feedback on their writing. The IEW grading checklist, for example, is a great tool for parents to use when giving instruction and feedback. Self-correcting is great, and extremely effective. That's what REAL college preparation is about, doing it yourself.

In schools, during the year, many times papers are written and never corrected. It's a real source of frustration for public school parents. But frankly, there's just too many papers in the world for a teacher to correct them all. That's why sometimes teachers in public schools will have the papers corrected by other student. (AKA "switch papers with your neighbor" grading - remember that?)

Now it's summer. Unless you are actively homeschooling during the summer, it's not the time for instruction. Grading English papers is going to help nobody right now. It's not going to give feedback for your child, in order for them to improve. It's not going to change the grade you choose to put on the transcript. It's not going to change the number of papers that you child wrote. Grading English papers can hurt you though. Grading when you feel like you are behind or can't give your child feedback, can create a downward spiral. It can make you feel insecure, frustrated, and like a failure.

I want you to stop grading papers in summer.

Did you know that in public schools the teachers go home in the summer? Whether they finished grading English papers or not, they turn in the grade they know to be true and then stop grading papers. That's what I want you to do.

I do have a full length class on grading. In it I talk about grading in real schools, by real teachers, to put over-achieving moms at ease and encourage slacker-moms to get the job done. With 39 reviews, and a 4.6 out of 5 star rating, this short, easy read intended to give you ALL the information about grading in one small book that you can easily read during your next trip to the pool or beach.

Making the Grades: A Grouch-Free Guide to Homeschool Grading
Now let me explain how my son's English teacher corrected in college, in the Great Books Program in the Honors Department at the University level. Ready? He looks at the paper, circled some stuff, wrote some comments and gave a grade. Then he let the students edit the paper and make all their changes. IF they edited/corrected the paper, he would grade it AGAIN and give them the new replacement grade.
Do what the professor in the great books program in the honors college did in the university - give feedback. Circle things that might be wrong. Make comments in the margin like "I don't understand" or "clarify this" or "too many words" or "expand on this."

Writing in high school English is about practice. Especially at this level, it's about practice.

Beyond grading English, there are two things I want you to know.
1. I want you to find out How to Have the Best Homeschool Summer Ever
2. If you want to make some REAL progress, don't grade papers, take continuing education classes to help you learn How to Be a Better Home Educator, and build a better homeschool with tools you have around the house.
I have a great resource that will really help you. The High School Solution is continuing education for real homeschool parents like you, who want to succeed. It provides complete instruction for every age and stage of teaching middle school and high school, from starting from scratch and choosing curriculum, to teaching the tough high school subjects like science, math and English. Learn more and start strong with the High School Solution.

Stay Informed
When you subscribe to the blog, we will send you an e-mail when there are new updates on the site so you wouldn't miss them.
Comments
No comments made yet. Be the first to submit a comment