How to Create an Awesomely Impressive, Normal, Natural Homeschool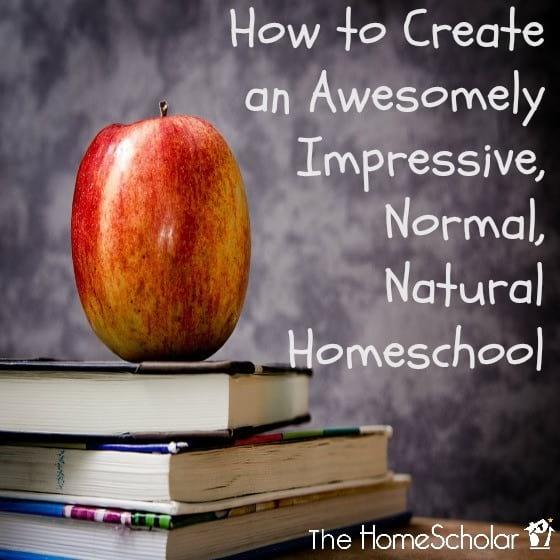 Your normal, natural homeschool can be as impressive as any public or private high school if you include two simple things as you plan high school courses.
1. Cover the Core
First, make sure you have the core classes for college, because you want to meet college admission requirements. Your goal is 24 or more total credits.
What exactly are college admission requirements? There is no "right" answer to that, because every college has their own requirements, but in general, these are the recommended courses to take in high school:
4 years of English (you know, reading and writing skills)
3 or 4 years of math (very rarely do they require a specific level)
3 to 4 years of social studies
3 years of science including one lab science
2 to 3 years of a single foreign language
2 years of PE
1 year of fine arts
Enough electives to make 24 or more high school credits

​
Meet the core requirements with freedom and flexibility, by the way. They should NOT be all textbook based. They should NOT be all in a classroom setting. In every area of high school college prep course work, make sure that you are teaching your students right at their level.
2. Capture Delight
Second, collect natural learning, because you want to exceed college admission requirements in some areas.
That is what makes high school FUN. One of the benefits of homeschooling is its efficiency - it allows plenty of time for fun! Allow enough time for your teenager to have fun doing what they love to do, and then scoop up those credits. Many of the things teenagers do for fun can actually be used as high school courses. These can be wonderful educational electives and additional foundation courses that beef up the transcript painlessly.

Comments
No comments made yet. Be the first to submit a comment