In my homeschool, I provided a simple percentage grade for tests that we gave.  If they got 10 wrong and there were 100 questions, they got 90%.  But that's only a grade for a test.  Sometimes homeschoolers don't use tests. Even if you do evaluate with tests, a test grade is only a PORTION of the grade you put on the transcript.
I worried about grading strategies was homeschooling high school.  Math and science were easy to figure out, because I'm a math and science person.  But when it came to English, I was completely confused!  I found help with a small, inexpensive book called "501 Writing Prompts" by Learning Express. Along with 501 writing prompts, it also can help you with grading English. It has a simple rubric (a chart that provides grading criteria)  for grading an essay on a 1-6 scale.  Why grade an essay 1-6? It would seem to make more sense to grade them 1-10, so you would be able to figure percentages easily.  But the 1-6 scale is the same score range for the SAT essay, so perhaps that is why.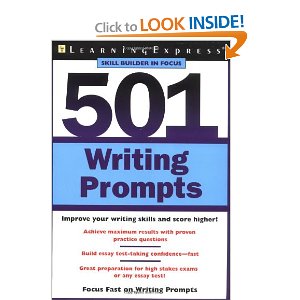 I'm not very good with "rubrics" and in fact, the whole WORD rubic has always intimidated to me.  When we quit public school, one of the teachers questioned my ability to homeschool and asked skeptically "what grading rubric will you use?"   I've been intimidated by the word ever since.  But the book "501 Writing Prompts" provides more than a rubric.  It also provides a visual example of each grade, so you can SEE what a grade of 4 should be, and what a grade of 6 should look like.  That helped me a LOT – I think I'm a visual learner.
Here is a link to that book:  "
501 Writing Prompts
."
For more information on how we used that book, you may want to read the article "
Quick Essay Skills Earn Thanks
."
Now that my kids are in college, I have seen a lot of examples of grading scales.  I have to say there aren't any specific requirements for a grade of "A."  Each teacher in each school district, and each professor in each college will have their own definition of an "A."  Some teachers will come right out and say "I know what to give you, so I don't need tests."  Others will have a detailed analysis of what makes an "A" grade.  They may have a point system, with a different amount of points for homework, tests, quizzes, projects, and discussion.
As a homeschoolers, you have to ask yourself "what's the point?"  As homeschoolers, we provide a grade that we know to be fair, without worrying that we will be sued or assaulted for unfair grading practices.  Remember, there is not a single "requirement" for an A.  There is only what YOU require for an "A."  So really, however you decide to grade is fine.  And your requirements for an A are the "Real Requirements" for an A.

Do you Twitter?
Follow me here
!