Homeschooling High School without Tests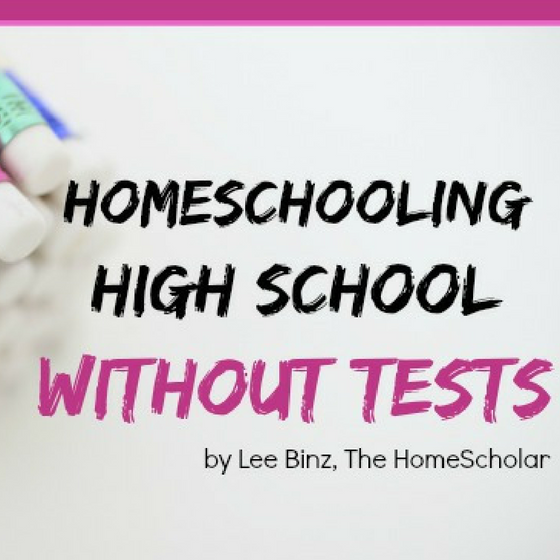 When your children are younger, you might be completely confident about avoiding tests and simply focusing on learning in your homeschool. When they reach high school, you may think you have no choice. You need to give grades and include them on a transcript! Don't panic. Did you know that you don't have to test to give a grade?
As a home educator, you have the option of evaluating your children with methods other than tests. You can evaluate them simply based on what they do. Discussions, writing reports, completing projects, and reading books can all be part of the evaluation process. Tests or quizzes don't have to be involved.
I like to show people the
homemade homeschool transcript I made for my own kids
as an example. In our homeschool, only about half the classes included testing. I chose to give tests for math, science, and foreign language classes only. The curriculum for each of those classes included built-in tests. You can't tell this by looking at the transcript. I did make sure to show how I graded my kids in the course descriptions included in the application package I sent to each college though.
All the other classes in our homeschool included no tests at all. I evaluated these classes without tests and my children were admitted to every college they applied. They were offered great scholarships and received full tuition scholarships to their first choice university! We accomplished this without testing in every subject.
If the curriculum you're using includes tests and you want to include them, go for it. If your child does well without tests and you don't want to use them, that's ok too. Do what works best for your child. You don't have 30 children in a classroom to keep track of and you know your child best! That's the beauty of homeschooling.
If you're still not confident about how to evaluate your high schooler and put together admission packages for colleges, including transcripts and course descriptions, feel free to check out my
Gold Care Club
. Members get all the tools they need to homeschool through high school, including private consultations weekly! I'd love to chat with you!

Stay Informed
When you subscribe to the blog, we will send you an e-mail when there are new updates on the site so you wouldn't miss them.
Comments
No comments made yet. Be the first to submit a comment