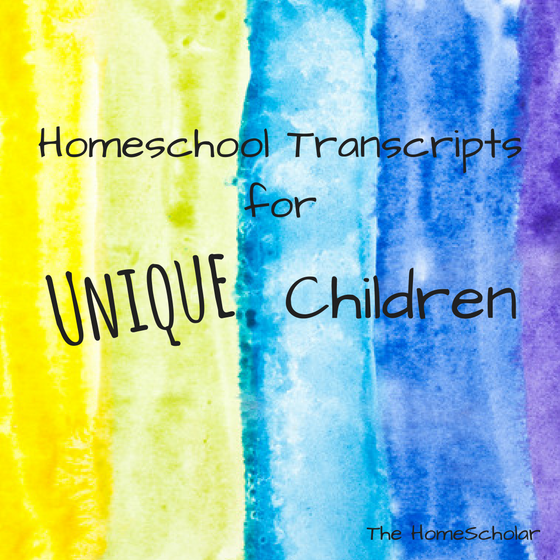 Homeschool Transcripts for Unique Children
Have you ever gone back and looked at your old high school transcript? I looked at mine recently, and it's a remarkably bland document. It lists the usual student info, the name of each class I took, the teacher's name, and my grade. It shows my college test scores, the number of days present or absent, and my cumulative GPA. I attended a public high school, but I imagine a private school transcript looks similar. How my college alma mater
ever
got a sense of who I was from this document is a mystery!
There are
so
many advantages to making a homeschool transcript compared to a public or private school transcript! I think the best one is that you can let your child's personality and giftedness shine through. The information you can include on a homeschool transcript can help make your student attractive to colleges and scholarship committees.
I know a young lady in public school who is extremely gifted in the arts, but not in science and math. Her high school transcript doesn't highlight her giftedness, so colleges won't see what a unique individual she is. You can highlight your student's strengths and gifts, demonstrated in their unique coursework and activities. Not to say that you shouldn't include courses your child didn't excel in, but you have the freedom to highlight your child's individuality and make them shine.
Why Make a Transcript?
The primary use of a transcript is to help a college evaluate your child for admission and scholarships. While homeschoolers tend to save many mementos of their children's lives (my closets are full of trophies and pictures), a transcript is not a scrapbook; it's a record of your child's academic history during high school. It's not a place to record every single activity your child ever participated in or all the awards they won. These are important, but are best presented on an awards and activities list, to complement the transcript.
The transcript is also a great planning tool. If you work on it regularly over the years of high school, you'll have a better idea of what you have covered and what your student still needs to work on.
Homeschool Transcripts Count
Is a homeschool transcript official? Can a homeschool parent really name courses, award credits, and assign grades? Yes! Your homeschool records are official because your homeschool is official. You do not have to be a professional educator to determine what counts and doesn't count on the homeschool transcript. As the parent, you know best what your child has learned and the credits they have earned.
I know an unschooling family who didn't make their child do math, but through testing verification, determined he knew pre-algebra, and gave him credit on his high school transcript for this knowledge. When you are confident your child knows a subject, you can include it on their transcript as accurate and true, without needing to verify it through the opinion of a "professional."
The Homeschool Advantage
Homeschoolers have so many advantages. You can create courses based on your child's unique and passionate interests, describe the courses to colleges in your transcript and course descriptions, and show your child for the special and wonderful person they are. In the competitive world of college admission and scholarships, homeschool records are one of the biggest advantages a student can have. Make sure your records do your student justice!
For more information on homeschool transcripts for unique children, check out my book,
Creating Transcripts for You Unique Child
.

Click Here to Join my Newsletter!