Homeschooled Olympians Go For the Gold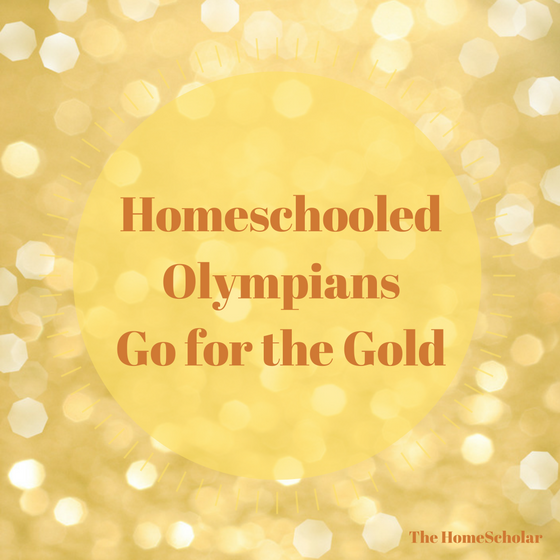 Homeschooled Olympians Go for the Gold
Years ago, I heard an Olympics commentator mention that many of the USA gymnasts are homeschooled because they have to practice for so many hours each day. I had never thought about it before. Each one of these kids has a gift. Their parents found the gift, fed the flames, and encouraged their children's unique specialization. And they ended up in the Olympics! How proud their parents must be!
Did you notice these homeschooled Olympians at the 2016 Olympics?
Steele Johnson - Diving
"Steele worked his way to the top of the junior, and then senior, national diving ranks, pulling out of Carmel Clay Schools to homeschool so he could have the flexibility to train at IUPUI ... Steele took high school classes online through Laurel Springs School, then went to Purdue on a diving scholarship. He competed on the team as a freshman and red-shirted this past year to focus on Olympic training."
Article at
Current in Carmel
.
Kathleen Baker - Swimming
"The road to Rio began more than four years ago, when Baker, now 19, left Forsyth Country Day School to pursue her dream, training with elite teammates and coaches at SwimMAC Carolina in Charlotte. That meant her family renting an apartment in the area, with her mother and father splitting time between home in Winston-Salem and staying with her in Charlotte. That meant switching to a homeschool plan, finding the time to finish her schoolwork around workouts and practices that took up half of her days."
Michael Phelps - Swimming
Michael has ADHD – did you know that? His mother was able to take what could have been a detriment and turn it into a huge advantage. I love this article,
ADHD Parenting Advice from Michael Phelps' Mom
. "Behind almost every ADHD success story is a devoted parent (or two)."
Simone Biles - Gymnastics
"Biles recounted how she had to leave normal high school and her friends when she was 13, The Undefeated reported. At a time when her peers enjoy prom and after-school activities, Biles was undergoing intensive training to get to the top of her league. Her competition schedule and rigorous training made it hard for her to maintain a traditional high school education. If she's away on competitions, Biles had to be absent from school for a month and she had to bring her schoolwork with her."
Simone won four Olympic gold medals and is the most decorated gymnast in history. Check out the article,
Simone Biles' Rio Olympic Games 2016 Victory: How Homeschooling Propelled Teen To Remarkable Success
.
Gabby Douglas – Gymnastics
"Being homeschooled gives me the freedom not to be confined to just a classroom for learning. I'm learning everywhere, everyday. My classroom really is the world! I travel to competitions in countries all over the world and we use that as part of my studies. I work at my own pace which allows me to follow my gymnastics dreams. Being homeschooled also helps build my self-discipline and time management. I have to balance priorities and school is definitely a very important one to me."
Article at
SimpleHomeschool.net
Other homeschooled Olympians at the 2016 Olympics included: Arielle Martin (Cycling), Dana Vollmer (Swimming), John Orozco, McKayla Maroney, and Danell Levya (Gymnastics), David Boudia (Diving), Kayla Harrison (Judo).
I bet you work as hard as parents of Olympians. Each child is unique and homeschooling is a joy, but it's never easy. It's hard work! Keep the goal in mind. It may not be Olympic gold, but you still want your child to find their passion and pursue it. As homeschoolers, we are free to encourage our children in their areas of specialization.
Find the Superhero within your own child! Include
delight directed learning
in your homeschool!
What is your child's passion? Please share!

Stay Informed
When you subscribe to the blog, we will send you an e-mail when there are new updates on the site so you wouldn't miss them.
Comments
No comments made yet. Be the first to submit a comment