Biggest Questions About Homeschooling High School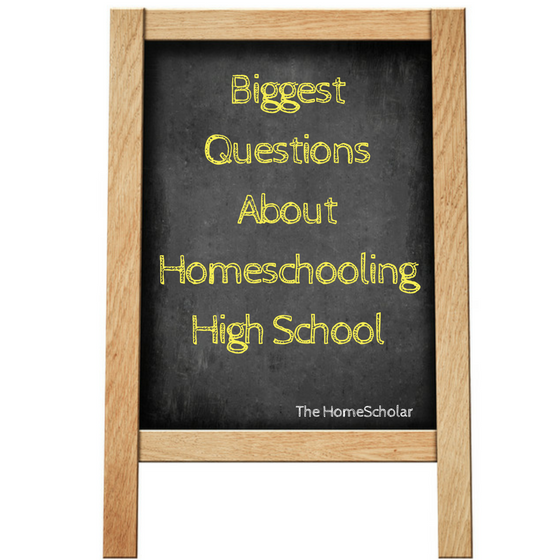 Biggest Questions About Homeschooling High School
It's possible to become disabled by fear or anxiety. Your job is to learn enough so you don't panic and bail out. Spend a moment removing your fear of homeschooling high school, so you can move forward with confidence.
What is your biggest question?
What about MATH?
We are in a golden age of homeschooling. Never in history have there been so many excellent resources to help the mathematically challenged parent teach advanced subjects. Find the right fit so you will not merely survive but thrive while teaching high school math.
Dry your tears! Help for teaching high school math is easy to find. Read
High School Math The Easy Way: Simple Strategies for Homeschool Parents in Over Their Heads
.
What about ENGLISH?
This can be the most over-taught and over-stressed subject! Some parents think it must take thousands of hours with buckets of tears, but for homeschoolers, teaching English can be a real joy! Be sure to include both reading AND writing, and you have covered the core you need. How do you feel about English this coming year? For me, English seemed scary, difficult to teach, and definitely intimidating. Now I know better!
Take the mystery out of high school English! Learn to teach the easy way with
Easy English for Simple Homeschooling: How to Teach, Assess, and Document High School English
.
What about SCIENCE?
Look, teaching high school science isn't rocket science! You don't actually have to work at NASA to teach your teens effectively! Teaching your kids science requires a willing heart, an organized approach, and some simple facilitation skills. It doesn't require a PhD. There is no reason for science to be scary.
If you are anxious, you'll love this quick read,
Simple Science for Homeschooling High School
.
What about SCHOLARSHIPS?
Homeschoolers have the advantage in finding scholarships, because you can incorporate it right into your schoolwork! Did you know you can give high school credit to your children for working on college scholarships? True story! To retain the love of learning, it's important to combine things when you can, and kill the proverbial two birds with one stone.
If now is the time to look for scholarships, learn and earn with this two-for-one strategy! My favorite English plan for junior or senior year! Read
College Scholarships for High School Credit
.
What about SOCIALIZATION?
Homeschoolers learn to interact with EVERYONE, not just people born within 9 months of their birthday! They have more time to develop TRUE friendships with those who share their interests and values, rather than shallow relationships based on proximity and age.
This is my story of how socialization actually improved our chances for the full tuition scholarships that my children received:
A little story for the next time you're asked about socialization
.
What about ACCREDITATION?
Did you know there are unaccredited public schools across the country? Yup! True story! That's why colleges treat your school the same way they do an unaccredited public school. One school district webpage in Missouri clearly explains what I have been telling parents for years. Accreditation isn't the "be-all-end-all." It's interesting to read a no-nonsense, the-sky-isn't-falling response to parental concern about accreditation.
If you want to read the long story of accreditation for your own edification, you can find it here:
Homeschool Accreditation - Don't Ask, Don't Tell
.
Are your anxieties or concerns getting in the way of homeschooling with freedom?
What are your biggest questions about homeschooling high school?

Save
Stay Informed
When you subscribe to the blog, we will send you an e-mail when there are new updates on the site so you wouldn't miss them.
Comments
2
Oh I'm so glad, Robin! Blessings, Lee
Lee, You always make me feel better. Thank you!