Homeschool Records Worth Imitating
One of the most rewarding parts of my job is hearing the stories my clients tell of their success in college admission and scholarships.  I know from experience the excitement of hearing that my student was admitted to his number one college, and the relief we felt when he won scholarships.  Hearing your stories is what keeps me doing this work of encouragement, so imagine my delight when Lisa in Washington sent me this: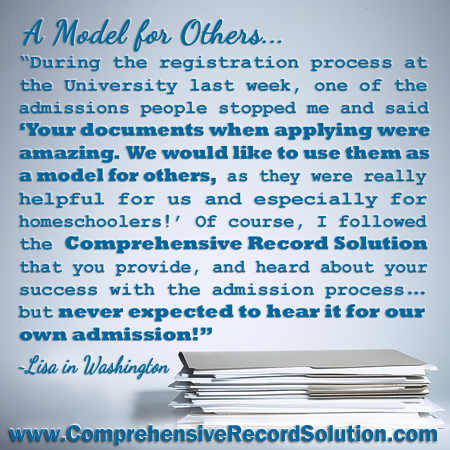 "Hi Lee!  During the registration process at the University last week, one of the admissions people stopped me and said, 'Your documents when applying were amazing.  We would like to use them as a model for others, as they were really helpful for us and especially for homeschoolers!'  Of course, I followed the 
Comprehensive Record Solution
 that you provide, and heard about your success with the admission process…but never expected to hear it for our own admission!"
While this was a great encouragement to me, there's also a moral to this story that everyone can benefit from: Prepare your homeschool records in advance! Great homeschool records aren't hard, but they do take time and effort to put together. Resolve today to put some time aside soon and work on yours!  I have tons of 
support
 and 
resources
, and am happy to help!
Stay Informed
When you subscribe to the blog, we will send you an e-mail when there are new updates on the site so you wouldn't miss them.
Comments
No comments made yet. Be the first to submit a comment