High School Plan in Full Color


You know how your children have their own learning style?

So do parents!

When you need to wrap your head around the high school years, try to do it in a way that will make sense to you.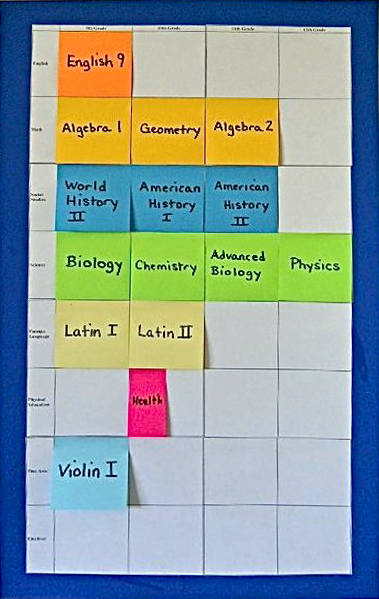 Penny shared her success with class planning in color!



Hi Lee,I was using the HomeScholar Planning Guide to start my planning for next year, but was having a little difficulty visualizing how classes might fit (without a lot of erasing!), so I came up with this idea that I thought I'd share with you. I put the planning guide on a poster board and used 3 x 3 inch squares for each grade and subject square. I'm using a whole post it note for a one credit class and half a post it note for a half-credit class. This way I can move the post-it notes around to see how classes might fit together for the year! I also can rearrange the notes to visualize how future classes might fit into the overall high school plan. I thought the idea might help others who are visual or hands-on oriented!Thanks again for all of your help! Have a great day!Blessings,
Penny


In my homeschool, I used sticky notes all the time for planning my day, and organizing my delight directed learning.
For some strange reason, it never occurred to me that I could use my beloved sticky notes to help me with planning the full four years of high school!
This is great! Thanks Penny!

Are you on Twitter?
Follow me
here
!
Stay Informed
When you subscribe to the blog, we will send you an e-mail when there are new updates on the site so you wouldn't miss them.
Comments
3
I love this! I think she should send it to the PostIt note company.