Hands Free Life Book Review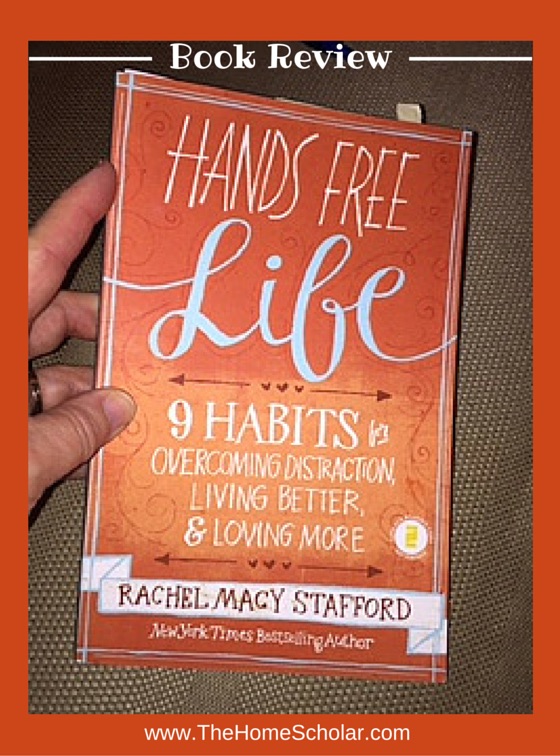 Affiliate disclaimer: This post contains affiliate links. If you click and buy I may make a few pennies, but not enough for a latte.
Hands Free Life Book Review
I requested a copy of the book
Hands Free Life: Nine Habits for Overcoming Distraction, Living Better, and Loving More
because I was so excited about the topic. I'm online and on social media a LOT for my job, and frequently I'm writing about the overuse of technology by teens, and overuse while homeschooling. I knew I had to find a balance in my own life and start "overcoming distraction, living better, and loving more," so I was eager to see what Rachel Macy Stafford had to say.
A hands free life is about letting go of technology so you can live in the real world with your real life, rather than missing it all because you are always online. It's about spending time with your family, rather than pinning or posting photos of the rare times you are together. The hands free life was my goal, so I really wanted this book.
What a thrill!
Rachel Macy Stafford writes in such an unassuming, casual, non-threatening way, I really feel like I'm talking with her over coffee. At the same time, she provides great, concrete information in a variety of ways. She has a section for "hands free life daily declarations" and a pull out section for "habit builders." Together with stories about her family, I think every parent will find some useful information. Some will read her stories to absorb the message, others will use her daily declarations to speak aloud and make changes, and others will use the habit builders section as a to-do list, becoming more hands-free as they incorporate changes in their lives.
My favorite passage is on page 200 (which is now dog-eared and underlined):
"The world needs more peace ... The world needs more human connection. Let it begin with my hands as I choose to hold on to my loved ones instead of my devices."
I also love this, on page 109:
"See What is Good, the fifth intentional habit of a Hands Free Life, offers a chance to look beyond the outer surface to the heart of what matters most. It is a perspective that allows us to see beyond our distractions, our hang-ups, and our preconceived notions to see the blessings right in front of us. See What is Good allows us to be an encourager rather than a dictator ... an original rather than a conformist ... a bearer of joy rather than a messenger of gloom."
Then she goes on to describe her child who has unique challenges and how she learned to see what is good in her real life. Good stuff!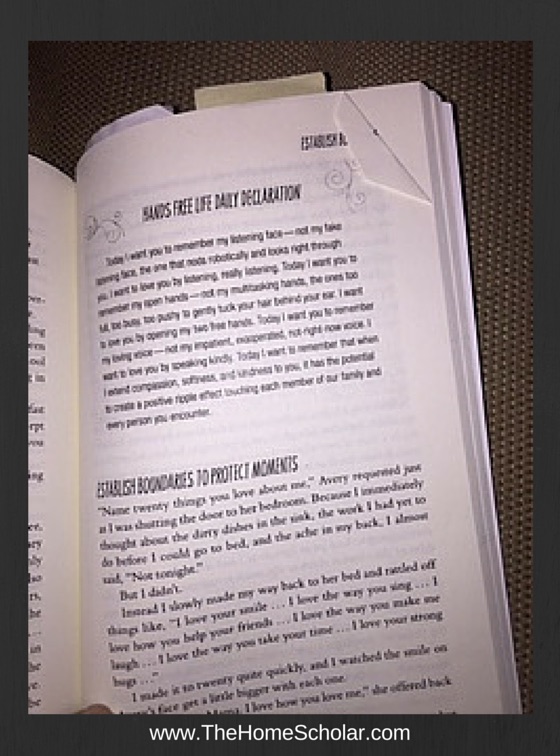 I loved
Hands Free Life
and I strongly recommend it for parents who need to go hands-free and unplug themselves before they miss their children's growing up years. I recommend it for parents who have challenging relationships with challenging children. And I also recommend it for parents who love to read good books!
Get 
Hands Free Life: Nine Habits for Overcoming Distraction, Living Better, and Loving More on Amazon here
.
If you need help creating a technology balance in your home, check out my book,
TechnoLogic: How to Set Logical Technology Boundaries and Stop the Zombie Apocalypse
!

Click to Join my Newsletter!
Stay Informed
When you subscribe to the blog, we will send you an e-mail when there are new updates on the site so you wouldn't miss them.
Comments
No comments made yet. Be the first to submit a comment