Graduation Photos from Kelly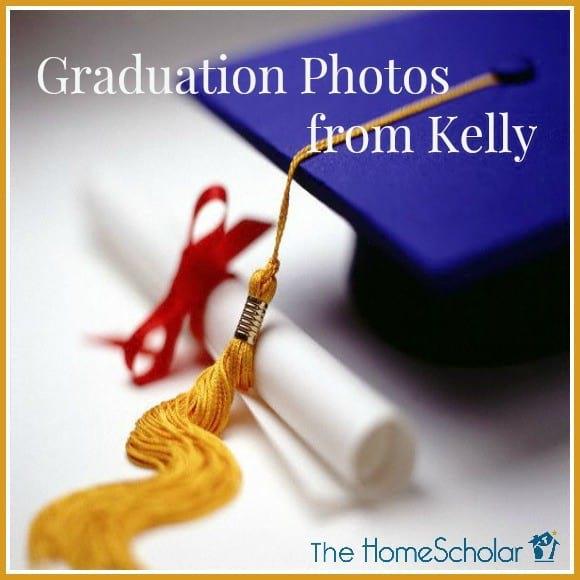 It's graduation season and I love seeing the unique graduation experiences of homeschoolers! This is how Kelly celebrated with her son the beekeeper!
We held the ceremony during our square dance club's regular Thursday night dance. We had a huge full sheet cake - chocolate with chocolate icing - with just some simple writing on it. I put a blue cap (his cap and gown were blue) and scroll on one corner and decorated the rest with little sugar candy bees I ordered from Amazon. (He is a beekeeper.) It wasn't overdone and it looked awesome.
I also made a display table with some photos and the Dr. Seuss book (another great recommendation from you!) for guests to sign, along with several colored pens. I'll attach a photo of that too. The "writing" behind it is from the marquee board in the hall where we dance. People enjoyed looking at the photos, and I enjoyed the memories while I was putting it together. You can see his square dance diploma lying on the left side of the table. I made a smaller display board with his baby announcement on one side and his senior photo on the other, and his graduation announcement/invitation in the middle.
I took your advice and ordered materials from the homeschool diploma website you recommended. Everything was wonderful, from the announcements to the cap and gown. I never got to watch the most recent graduate webinar you offered, but I did watch the older one you sent me the link to, and I read your book on graduation. You have been so helpful, and I can say with absolute certainly that I would not have been able to do things this well had I not found you!
I am finalizing course descriptions. I will send them to you when I am done, in hopes that perhaps some of my work will help someone else. I was feeling very anxious about them until I read a sample from one of your other members. They had unschooled their son and had written the course descriptions specifically for his work. I saw that, it clicked, and I was off to the races! I am so pleased with how the homeschool transcript and activity list turned out as well.
I had a lot of fun planning the graduation, and your materials really, really helped me. I found the cutest table cover with brightly colored graduation caps all over it. I made chicken salad and ham salad sandwiches and sausage balls, and we had cheese cubes and crackers, red and green grapes, watermelon cubes, chips and dips, chocolate and vanilla wafer cookies, plain and peanut M & M's, and I can't think what else. My daughter helped me put all the food together.
Anyway, I am happy for you to use anything I wrote in a post, and I hope it encourages someone else.
Blessings on you,
Kelly
When your child graduates, make sure to take LOTS of pictures before the party even starts. I'd love to be able to share your photos too!

Stay Informed
When you subscribe to the blog, we will send you an e-mail when there are new updates on the site so you wouldn't miss them.
Comments
No comments made yet. Be the first to submit a comment