From Qatar to College Requires a Transcript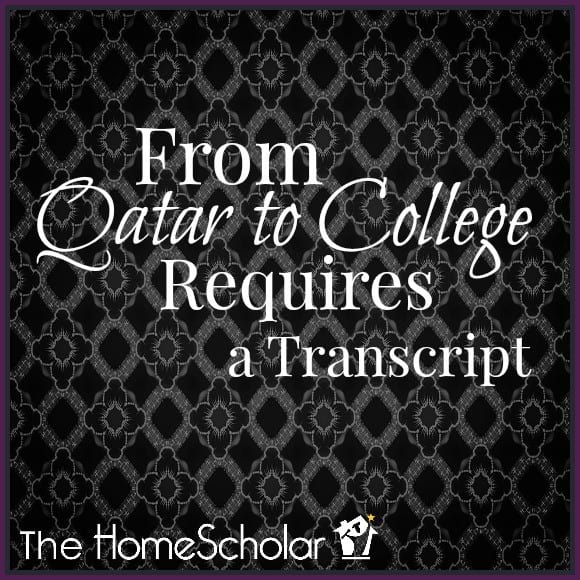 What do you do when you live and homeschool in Qatar and your child is going to college in the US? Make a homeschool transcript, of course!
Margaret wrote, "We just received my son's Early Decision acceptance! Your Total Transcript Solution is awesome, and your webinars rock! Hugs from Qatar, Margaret" She was so sweet and said, "I'm happy to be a testimony that success with your system is international." What a blessing!

So here's an idea.... Take a free class on making a transcript to get some motivation and inspiration. A Homeschool Parent's Guide to Grades, Credits and Transcripts will give you the information and confidence you need to succeed in creating amazing homeschool transcripts that the colleges will love! Go take my free class now!
Make your transcript and update it every year. That way you'll be ready to go, even if you are applying "Early Decision."
What does that mean? Here is the definition: "Early Decision (ED) is the application process in which students make a commitment to a first-choice institution where, if admitted, they definitely will enroll. While pursuing admission under an Early Decision plan, students may apply to other institutions, but may have only one Early Decision application pending at any time. Should a student who applies for financial aid not be offered an award that makes attendance possible, the student may decline the offer of admission and be released from the Early Decision commitment. The institution must notify the applicant of the decision within a reasonable and clearly stated period of time after the Early Decision deadline. Usually, a nonrefundable deposit must be made well in advance of May 1. The institution will respond to an application for financial aid at or near the time of an offer of admission. Institutions with Early Decision plans may restrict students from applying to other early plans. Institutions will clearly articulate their specific policies in their Early Decision agreement."
Learn college admission terms in my post "College Application Lexicon"
I hope Margaret's success motivates you to get your transcripts done! If you need more help, take a look at my Total Transcript Solution!

Stay Informed
When you subscribe to the blog, we will send you an e-mail when there are new updates on the site so you wouldn't miss them.
Comments
No comments made yet. Be the first to submit a comment