Finding Freedom in Homeschool Language Arts
Are you allowing yourself enough flexibility for delight directed learning or are you putting your Enlgish credits in a box? Do you feel insecure because you aren't sure what "Language Arts 10" means? How many books do your children read each year in high school?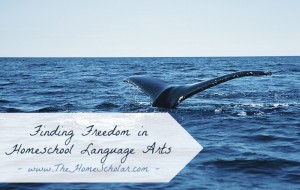 Finding Freedom in Homeschool Language Arts
I was fascinated by an opinion column in the Seattle Times,
Seattle Sacrifices Monster Lit
, which stated:
"We should allow principals and teachers to select the curriculum that best fits the needs of their particular students."
Some ideas for English credits that are listed in the article are currently taught in Seattle Public schools right now:


poetry


speech


creative writing


expository writing


journalism


science fiction


sports literature


early American literature


modern American literature


social-issues literature


African-American literature


Shakespeare


literature and philosophy


The article discusses a teacher trying to include a class on the literature of monsters, including having the students read the following books:


Mary Shelley's "Frankenstein,"


Herman Melville's "Moby-Dick,"


Robert Louis Stevenson's "Dr. Jekyll and Mr. Hyde,"


Albert Camus' "The Plague,"


and something from Edgar Allan Poe


What a great list of books, and what a fabulous idea for a class! Think of all the other "monster" books you could include! Phantom of the Opera...War of the Worlds...
I always have trouble explaining what "Language Arts" means, and there is such a wide variety of what you can do with an English credit. I love this quote from the article:
"But if someone asks what "LA 10" means, "Right now I can't tell them what it means,"
says Cathy Thompson, Seattle Public Schools' executive director of curriculum and instruction.
Did you notice how the schools only require two years of English? That's not enough! It's not enough for college, and it's certainly not enough to learn how to read and write well.  I can see why colleges express concern about the reading and writing ability of public school students!
It was interesting to see how many books were read in an English class. The article says, "Each year, students will read two novels chosen by the central office. There will be two more from a short list and further choices from a longer list."  It looks like an average high school student reads 6 books in an average year.
What an interesting and helpful article! Free your language arts choices. Don't beat yourself up if your child only reads 6 books a year. Strive for better than public schools, of course, but don't beat yourself up unnecessarily, either. I hope you find the article as encouraging as I did.
What kinds of English classes are you teaching or planning to teach in your homeschool? Please share!

Please note: This post was originally published in June 2009 and has been revamped and updated for accuracy and comprehensiveness.
Subscribe to my YouTube channel.  You'll  get notified when I create new videos on homeschool high school topics!
Stay Informed
When you subscribe to the blog, we will send you an e-mail when there are new updates on the site so you wouldn't miss them.