Homeschooling isn't cheap.  We pay for our own curriculum, supplies, and teacher manuals.  It doesn't get cheaper as kids get older, either!  For some families, finances are a HUGE issue, even while they are committed to homeschooling through high school.  Here is some helpful advice for these parents who are thinking about college admission.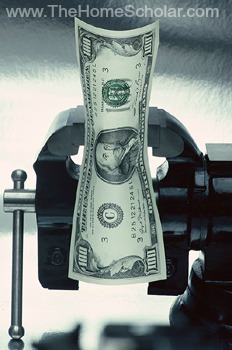 Two important truths
Homeschoolers tend to be single-income families.
Homeschoolers love to save money.

Two important expenses
SAT and ACT tests are required for admission, and kids need to score well so they can get college scholarships.
Colleges application fees must be met in order to apply and get college scholarships so homeschoolers can afford college.

Problem:  How to save money on tests and applications.
Solution: Fee Waivers! There are ways to request that some fees are waived.

Save money on Tests
Homeschoolers can save money on the SAT or ACT by requesting fee waivers.  For both tests, homeschoolers must provide proof of eligibility to your local high school.  These waivers can't be completed by the SAT or ACT company, they must be provided by a high school, but it never hurts to ask.  They will usually only waive the fee for the test one time.  You can read here for more information:
SAT Fee Waivers: http://sat.collegeboard.org/register/sat-fee-waivers
ACT Fee Waivers: http://www.actstudent.org/faq/feewaiver.html

Save money on College Applications 
Many colleges will waive the application fee if you ask them to.  Many colleges will waive the application fee is you visit their school and request an application.  Ask them!  Other colleges are so eager for qualified students, they will ask you to apply to their college at no cost.  For that reason, getting great SAT or ACT test scores can allow you to apply to more colleges for less money.  If those ideas don't work, you can request a fee waiver through the NACAC website.
NACAC Request for Application Fee Waiver Form:  http://www.nacacnet.org/studentinfo/feewaiver/Pages/default.aspx

Read the rules and make sure it applies to your family.  You will have to provide financial information if you want a fee waiver, but it's doable!  And it can save you money!

The HomeScholar's newsletter comes out on the first of every month.  Sign up now for your
free monthly newsletter
!