Early High School Credits or Extra Middle School Fun?



Should we count extensive European travel during middle school as early high school credit?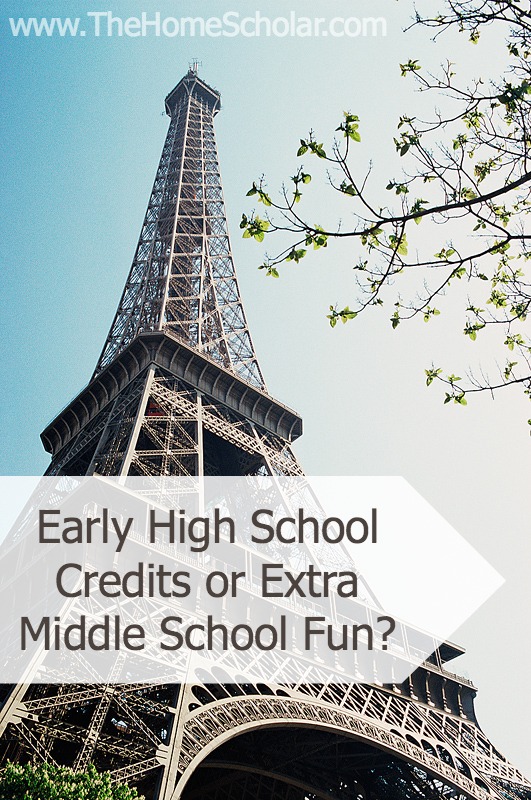 Traveling Europe, learning foreign languages, and experiencing the art and culture of other countries is awesome!  If these were done during high school, then you can give high school credit for the whole experience. If these experiences are completed prior to high school, does it count? In  my opinion only the academic subjects taught at high school level can be counted as high school credit. In other words, if a child has learned Spanish in middle school and still knows Spanish, then I would give him credit for that. If you use a foreign language curriculum as well as immersion in the culture, then it may provide an indication of how many high school levels they have achieved. You can include each of those levels of foreign language on the high school transcript. I did that myself. My children did high school level Latin and French in middle school, and I listed it as "Early High School Credits" on the transcript. You can see a sample transcript by year here.
While an elementary or middle school experience is a wonderful and enriching time that will last forever, high school credits do not necessarily follow. I don't suggest high school credits for experiences earlier unless it's an academic subject and high school level. You may decide differently, though, depending on how long ago this all happened.
On the other hand, you can certainly give high school credits for things your child does from now on with that information.  If your child comes home from this fabulous experience, and continues to study the language, you might want to give high school credits for "Conversational Spanish" in high school.  If, because of these experiences, the child passes a CLEP exam in , for instance, European history, then you can give credit for it.  If your child catches the European bug, and begins studying about a country as a passion through delight-directed learning this coming year, then you might give high school level credit when the child is high school age.
It's a good idea to include academic, high school level subjects on the high school transcript. Remember that many middle school experiences are just FUN, though. They encourage the love of learning and encourage your child's interests in different subjects, but they don't need to go on the transcript.

Stay Informed
When you subscribe to the blog, we will send you an e-mail when there are new updates on the site so you wouldn't miss them.