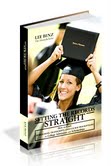 What if you don't read the WHOLE book - what do you do with that? How does it fit into your course description when you didn't finish every word of it? Julie asked some questions about her course descriptions...
Hello Lee.

I'm finding your book Setting the Records Straight quite helpful as I learn to write course descriptions. That's triggered three hopefully simple questions though.

May I use the course descriptions from the book, both the page layout and the actual sentences describing the course, as a starting point for my own?
If only part of a book is read, do I indicate that with something like Title (Partially read)?
Are supplemental texts assumed to have been read in entirety unless noted?

I want to be honest in reporting what texts we used, but it seems we should not have to finish the whole thing to make it count. For example, we used the sourcebook of primary texts from The History of US for American history, but we certainly did not read the entire thing. Thanks for your advice!

Julie
Dear Julie,
Thanks for writing! Yes, the purpose of the book is for you to imitate it, and even your course descriptions word for word - that's perfectly fine! For the reading list, author and title is enough. You can say "Excerpts" by books that were not completed. I was JUST speaking to another mom about this a few minutes ago, too. Remember those English Textbooks in high school? They NEVER have whole books, they are ALL excerpts. Even in college the books were that way - drove my kids crazy in college when they were supposed to read just 5 chapters or whatever. So the word you want to use is "excerpts." Supplemental texts are not necessarily used in their entirety. But if you used them at all, you put it on there. For example, some moms use a history textbook more as a timeline guide, and don't refer to it much at all, relying on hands-on or literature for history. But you still put it on the supplemental text list.

Homeschool records that open doors! Learn how to create records of your homeschool that will attract the attention of your dream college.