Cheap and Easy High School Record Keeping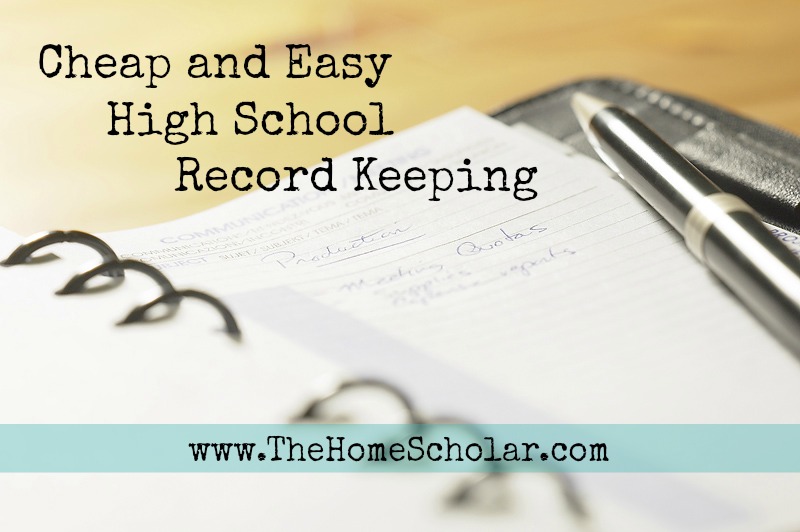 Use the "Binder Queen Method" of record keeping.
My favorite method of record keeping is not a product you buy, it's reasonably price and easy to assemble.  I recommend a simple 3 ring binder, divider tabs, and lined notebook paper. Super-smart moms might want "college ruled" paper, but that is completely optional!
I have seen far to many moms buy the latest and greatest record keeping, and then not use it. It doesn't matter what you BUY, you know! Yup, you actually have to use something in order to be successful with record keeping.
But here is the cheap and easy way to keep records.
Set up
Buy a three-ring notebook.
Insert dividers.
Make 1 divider for each class you intend to teach this year.
Make 1 divider for things required by your state law.
Make a divider for test results and your reading list.
Insert 1 lined notebook paper behind each divider.
Suggestions for dividers: English, Math, Social Studies, Science, Foreign Language, Physical Education, Fine Art, Electives, Test Results, Reading List, State Requirements
Maintenance
Every time you give a test or quiz, write the test number and score on the paper.
For classes without tests, write a list of books read, field trips, or experiences
Every time you create papers of some kind, write the kind of paper, or essay name, on the paper.
Insert all tests, quizzes and papers into the divider section behind your note paper summary
Keep a copy of textbook cover and table of contents
Use
The divider tabs will tell you what to put on your transcript
The contents behind each binder tab will be the details you include on your course descriptions
If you didn't start or complete a class you intended to teach, throw out that section like it never happened.
As long as you keep records and create a transcript, course description, and reading list, you are a success!  
What cheap and easy way do you keep records?

Stay Informed
When you subscribe to the blog, we will send you an e-mail when there are new updates on the site so you wouldn't miss them.