Dear Lee,
I am worried about math for my 10th grade son. He has struggled in math for years.  Due to some research about dyslexia in my younger son, I stumbled upon something called dyscalculia. I am wondering if my 10th grader has this and how it will affect his chances at getting into a college. My question is, do they really need algebra and geometry to graduate?
Thank you for your help,
~ Michelle in Oregon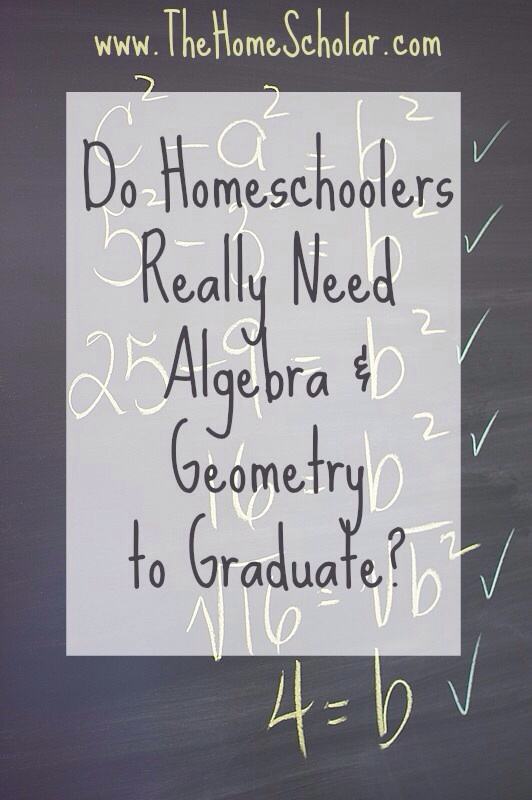 Do Homeschoolers Need Algebra and Geometry to Graduate?
It can be challenging to homeschool a child with a learning disability. You may find my blog post,
High School With Learning Challenges
helpful. You can get some math help with my article on
How to Teach High School Math at Home
and choosing a curriculum.
There are "perfect fit" colleges just for your child that don't require a lot of math. I know there are colleges that "recommend" a certain level of math, but there is a college for every student. Graduation requirements also vary state by state. Be sure to look into what your state requires.
Teaching math is important, and teaching math at your child's level is important. It can help to choose the curriculum carefully, which is why I included the article above. When teaching teenagers, their learning style and your teaching style often takes a back seat to their personal preferences - which can be quite strong.
My advice is to choose a curriculum carefully, and continue to help your child at his level without quitting math. Pursue some extra help for dyscalculia. Here is a
dyscalculia website
for you to get started. Then move forward boldly, because there will be a college that's right for your child, even if he doesn't have algebra and geometry.

Please note: This post was originally published in August 2009 and has been revamped and updated for accuracy and comprehensiveness.
You can subscribe to my blog so it comes to your inbox.  It's a daily dose of homeschool high school wisdom!