Please note that as of January 2021,
The College Board has discontinued SAT Subject Tests® and SAT® essay.
California colleges can seem a little "homeschool-challenging" at times, but it really is possible to attend these colleges as an independent homeschooler.
Let's look at a private college, the University of Southern California (USC).  You have to provide some additional outside documentation, through testing.  They want to see at least 3 SAT Subject Tests.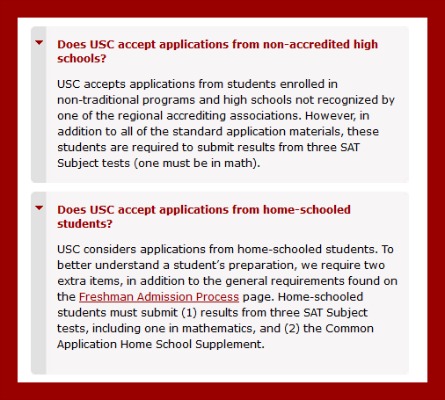 To be honest, though, it's not JUST homeschooled kids that have to provide the additional testing.  It's also kids who go to unaccredited public schools, or unaccredited private schools.  Did you know there was such a thing as an unaccredited public school?  Yup! It's true! That's why we don't need to waste our money on accreditation agencies, because we are treated the same as an unaccredited public high school.
So let's be clear. USC wants subject tests from every applicant.  They require subject tests from homeschoolers - but also from kids who attend a new public school, or an unaccredited public school, or an unaccredited private school.
Now let's look at another school, UC Riverside, which is part of the University of California college system.  They have a non-test method of assessment, called Admission by Exception." Basically, the child can explain why they are exceptional and deserve admission without taking tests. They only have a few slots available for this, so I don't recommend taking this route unless absolutely necessary, but it's there is you need it.  But look at it again, just for a second. Notice how it says "some homeschoolers don't have transcripts."  You, my friend, CAN have a transcript. It's not too hard,you can easily learn how.  This free class will help: 
Homeschool Parent's Guide to High School Grades, Credits and Transcripts
.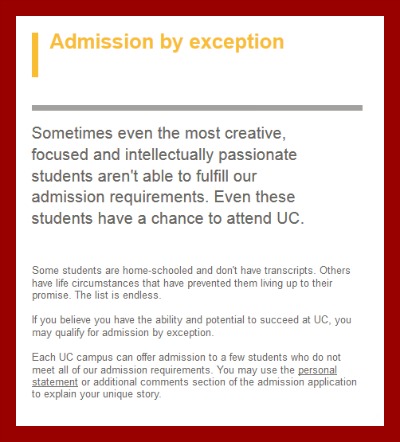 Now don't get all worried.  The UC Riverside actively recruits homeschool students.   "Among the homeschool community, we find large numbers of students who are smart, mature, creative, independent and well-socialized people," said Frank Vahid, a professor of computer science who has three children who are homeschooled. "We want such excellent students in our classes. They have a lot to offer the university community." Homeschool students are "smart, mature, creative, independent and well-socialized people."  That sounds pretty good, doesn't it? 
Read the article online
.
They love you, they want you, they just want you to do some extra testing like many other public and private schools provide.  If you want to go there, it's worth the hassle, and if you don't, take your money somewhere else, and shop for a college that's more homeschool- friendly.  Either way, don't think they don't want you - because they do!
If you need any extra help, you will really appreciate my
Gold Care Club
, full of templates and tools to help you homeschool high school.