[Video Tip] How to Send Homeschool Records to College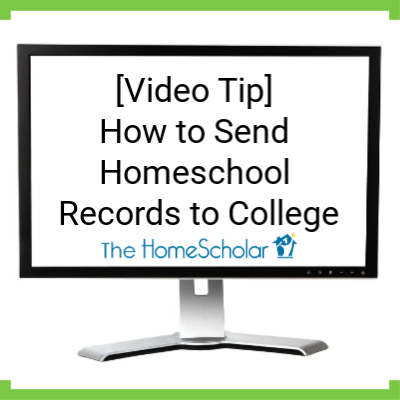 This short video will show you what my records looked like when I submitted my homeschool records, because sometimes you just need to see it with your own eyes to have a picture of what your own should look like.
​When I sent my records to the colleges, the order was this:
First, a cover letter.
Very simply, it explained, "Enclosed are the complete homeschool records for [Child Name]".
Second, a transcript.
The one-page transcript, loose on top when mailed, gave the college a quick overview for a yes-no analysis on admission.
Third, the comprehensive records.
I provided all the records I had, spiral bound by the local printing shop (Staples, Office Depot, Costco, local printing shops, ect). My comprehensive records were put in this order:
1. Cover sheet so they knew what it was. I had a simple title like "Comprehensive Homeschool Record for [class] (with my son's name and date of birth for identification)
2. Table of contents so they could find specific information, and know what the packet included. If they only wanted to look at course descriptions for core subjects, or just the descriptions for the electives, they could easily find them.
3. Transcripts by subject and by year. This allowed colleges easy access to the transcript format they preferred, or in case they lose the one transcript mailed at the same time.
4. Course descriptions arranged by subject, to allow for easy reference. Each course description had a paragraph describing the class, a list of the curriculum and supplements we used, and a description of how I evaluated the class.
5. Reading list that included books for school, for fun, and for work.
6. Detailed activity lists, giving lots of information about extracurriculars and awards received.
7. Work samples of the student's writing. I know this is optional, but I also provided 3 different writing samples: a creative piece, and English essay, and a research report.
I love helping parents create outstanding homeschool records - it's my favorite thing to do! You don't need to be an uptight test-making machine to do it, either. You can explain your normal, natural homeschool in words that colleges understand, and end up with an uber-impressive package for your homeschool records.
Need help? Choose what fits your learning style best!

Stay Informed
When you subscribe to the blog, we will send you an e-mail when there are new updates on the site so you wouldn't miss them.
Comments
No comments made yet. Be the first to submit a comment