Total Transcript Solution Review by Laura Delgado and TOS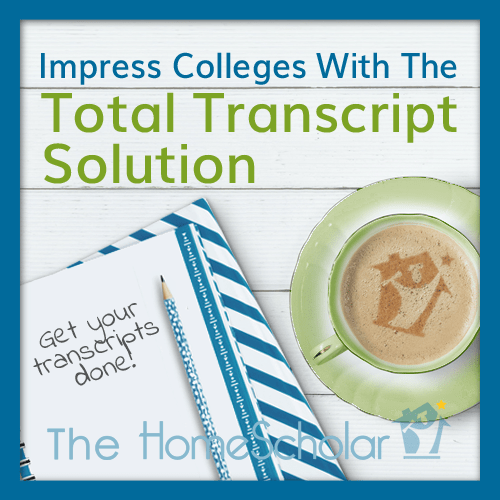 Total Transcript Solution Review by Laura Delgado
and
The Old Schoolhouse® Product & Curriculum Reviews

"Lee Binz is quite literally the first and last name in homeschooling high school. If you haven't heard of her, my guess is that not only have you not homeschooled a high schooler, you haven't even contemplated homeschooling one. Among Lee's numerous offerings for parents of high schoolers is one that will, I am sure, cause a huge sigh of relief: a transcript solution. Total Transcript Solution costs $47 and comes with 30 days' free membership in Lee's Silver Training Club. There is a 30-day money back guarantee on all of Lee's products.
What exactly do you get with Total Transcript Solution? Making a Transcript – downloadable MP3 and handouts, The Easy Truth About Homeschool Transcripts E-Book – downloadable PDF, Transcript Template Collection – downloadable Word and Excel documents, one free 20-minute Consultation with Document Review – private phone consultation to get all your questions answered, The HomeScholar Audio Course Deluxe: High School Testing – downloadable MP3 and handouts, The HomeScholar High School Resource Pack – downloadable PDFs, Special Report: 7 Secrets to Homeschooling Through a Financial Storm – downloadable PDF, and other surprise bonuses (Emergency Transcript Help – everything you need to get the transcript done NOW, Testing Pack – everything you need to know for the PSAT and other standardized tests, Resource Pack – planning guide worksheets and calendars with expectations for middle school and every individual year of high school, and more) delivered by email after purchase.

The above list doesn't really convey all that you get when you purchase Total Transcript Solution, because one thing you can't put a price on is peace of mind. If you're anything like me, you're not worried about the actual teaching of your child in high school, it's the bureaucratic sundries that keep you up at night. What Lee does is take all that worry off your plate. She has literally anticipated every one of your transcript needs and provided for it. I'll confess that after nine years of homeschooling, I tend to be a little jaded when I see long lists of resources like the one I wrote above. I think, "Yeah, it's easy to write out a list like that, and it usually means that you're not really getting all that much "real" material. The person selling just wanted to throw in a bunch of stuff to make it look good." I am being utterly sincere when I tell you that everything you are getting in Total Transcript Solution is the real deal. It's all genuinely useful, and none of it is fluff or filler. If you have any reservations about creating a college-acceptance gaining and scholarship-winning transcript, this product will allay your fears. More than that, if you are the kind of person that knows that there are things you should have on your radar when you homeschool a high schooler (like the PSAT), you should really consider Lee's products. She is your mentor as you homeschool your high schooler.

That mentorship even extends as far as a phone call. When you buy Total Transcript Solution, your purchase entitles you to one free 20-minute phone consultation with Lee herself. The best part is that that phone consultation includes a review of your transcript (if that's what you want). What that means is that you can put your transcript together, send it to Lee, and then talk about it with her over the phone. In my opinion, that phone call is worth the entire cost of the program. Lee's transcripts (remember, she tells you how to create them in this program) earn college scholarship money (she has numerous testimonials on her website). Of course, you can spend those 20 minutes any way you want. If you just have a bunch of questions, you can use this time to ask away! It's your 20 minutes!

In a review, I might normally say that there really is something for everyone in this program. In this review, though, I have to say that there is everything for everyone. Truly, if you're homeschooling a high schooler, and will need a transcript at some point, you can't go wrong with this program. While it is true that anyone can generate a transcript with a word processor, it is not true that just anyone knows what colleges are looking for. Further, Lee offers so many choices with her transcript downloads. She shows you what they look like blank and filled in. They look completely professional. There is nothing homemade looking about them. Now, I'm reasonably intelligent and well-educated. I know my way around a word processor. However, I could never have come up with a document that looks this good. It looks like something you paid to have professionally done. I've lost sleep thinking about my four kids' transcripts, but that's one thing that won't be keeping me up anymore.

Once you purchase Total Transcript Solution, you simply log into Lee's website, and you can access your materials from there. Over the course of the next couple of weeks, you will be emailed additional bonuses. It is very easy to download everything to your computer's hard drive so that you retain access to it. The process is very simple. If you run into a problem, Lee's tech team (her husband!) is very responsive and kind.

I'm obviously an enthusiastic fan of Total Transcript Solution. It fills a much-needed space in the homeschool market. It's one of those "Yes, you could do it yourself, but why when someone else has already done it so much better" products. Anything that makes homeschooling high school easier is a big win in my book."

-Product review by Laura Delgado, The Old Schoolhouse ® Magazine, LLC, July 2017

Stay Informed
When you subscribe to the blog, we will send you an e-mail when there are new updates on the site so you wouldn't miss them.
Comments
No comments made yet. Be the first to submit a comment