Total Home Makeover: Transform Yourself, Your Family, and Your Home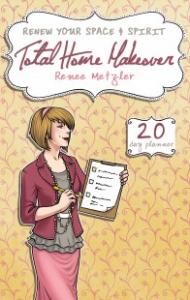 I saw this book and it looked so great!  Check out what my daughter-in-law says about this book. She loved it!
As a newlywed with no kids, let's just say I was skeptical that this book would be helpful to my life. Let me just start off by saying . . . I was wrong.

When I sat down at Starbucks (a nice peaceful alternative to my living room), I began reading the intro. She had me at "hello." Renee has a tone that will encourage you and make you feel like tackling your home is not an impossible task. I was expecting an "impossible" list of things to change, but what I wasn't expecting is that the list would start with me! Phase One is "Transform Self," Phase Two is "Transform Family," and Phase Three is "Transform Home." It's definitely not what I was expecting! The clutter in my house has always seemed to be an impossible task. My family teases that my Dad and I have method to our madness. And we do! It may be cluttered, but we know where things are. Unfortunately, because of this, there didn't seem to be much motivating me to change. And over the years it became an impossible task.

Even though my home is new to me, and my family is just my husband and I, it was incredibly helpful to begin to read about ways would could incorporate our future family into maintaining balance in our home.

This is definitely a book that anyone can read and anyone can relate to. No home is perfect. This book will help encourage you. It won't boggle you down, or make you feel guilty. Renee is there to walk along side you and lovingly help you feel like you can be successful at developing healthy living skills.
Check out the book, it looks just great to me - and useful for all home-makers, from newlyweds to seasoned veterans!
It's available on Kindle - if you need it now - and on paperback, for the perfect gift
Are you curious about The HomeScholar? Find out more here!
Stay Informed
When you subscribe to the blog, we will send you an e-mail when there are new updates on the site so you wouldn't miss them.
Comments
No comments made yet. Be the first to submit a comment