Simple Formula for Scholarship Success
Simple Formula for Scholarship Success
The secrets of college admission and scholarships are actually pretty easy. Start your research early. Diligently keep your transcripts and course descriptions up to date. Apply early during Senior year. Scholarship money is first-come, first-served, and you want to be first in line! But that means you must have all your ducks in a row before you start the application.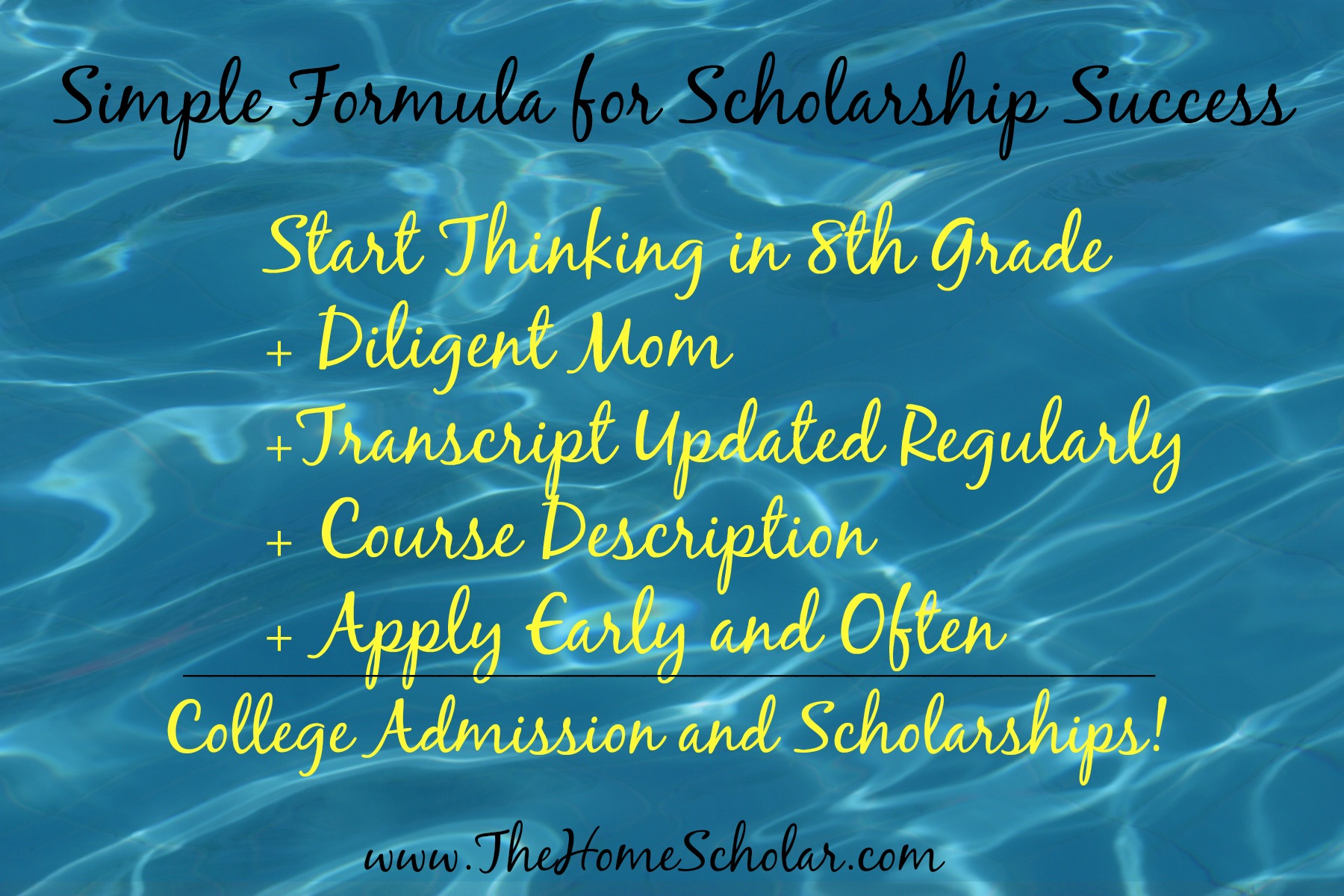 What can you do today, so that you are successful?







This kind of planning has some built-in flexibility. If you find out at the last-minute that you need another class, or another test, you can fit that into your schedule. If you know your child needs just a few more points on the SAT or ACT to get a full scholarship, you'll still have time to achieve that goal before the money is all gone.
So get in there! Jump into the pool, the water is great! And the swimming is easy! You just need to learn how to swim early, before the marathon of college application begins!
  Lee - I want to send a thank you to you for your products. I purchased them 4 years ago when my oldest was in 8th grade. I diligently kept up with the transcript each semester as she completed different courses. Now, she is entering her senior year and has already applied to her top two schools. She just heard back two days ago that she was accepted for the fall 2016 to her top school! I was thrilled to put that hefty transcript in the mail, complete with course descriptions, teacher credentials, textbooks used, etc. It was truly a showcase of all her hard work over the past several years. Now she only has to increase her scores on the ACT by a few points for a full merit scholarship. Thank you again for providing your products and services to homeschoolers.  What a blessing they are! ~ Tosha in Virginia

Stay Informed
When you subscribe to the blog, we will send you an e-mail when there are new updates on the site so you wouldn't miss them.
Comments
No comments made yet. Be the first to submit a comment