Middle School Math Credits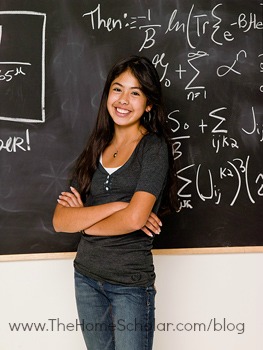 As a homeschooler, I'm sure you are wondering or will wonder at some point if math done in middle school can go on your students high school transcript. I'm here to assure you that it probably can! Math credits earned are unique to each family, so here are a few examples that you may relate to:
If a 6th grader takes Algebra with Geometry over a year and a half, do we include that on their transcript?
I was in that in that situation, and yes, you do put that on the transcript. Record it as "Early High School Credits".  There is an example of that in the Total Transcript Solution e-book.  If you have more questions, you can also look at the transcript sample that is on the website, on our
Freebies Page
.  If you go to Record Keeping Samples, you'll see "Early High School Credits".
Does it look funny if you end up with five years of math if you include Algebra 1 from 8th grade?
It
doesn't
look funny; it looks like your student did more than expected, and more than expected is one of the reasons you get the good scholarships. I think that recording extra credit is a really good thing to do.
One of the things that you can do, is to decide that you want to organize your transcript by subject, so that all your maths are grouped together. Or, you can organize your transcript by year, and show what your student took in 9th grade.  This is where your display your student's Early School Credits.  Those credits that were earned in the 8th grade.
I don't really know if colleges have a preference regarding the way you organize your credits, but I will say that they
do
prefer that you
exceed
expectations in some way.  Exceeding expectations is a good thing when applying to colleges. It shows that you aimed for excellence in your homeschooling endeavors.

Do you like getting this sort of help for homeschooling high school?  Gold Care Club members get extended answers to their most challenging high school issues.   
Stay Informed
When you subscribe to the blog, we will send you an e-mail when there are new updates on the site so you wouldn't miss them.
Comments
No comments made yet. Be the first to submit a comment