Economics is usually a 1/2 credit, semester-long class taught during senior year in high school. Sometimes homeschoolers want to provide a full 1 credit class on economics, which can be done. There are a lot of different ways to cover economics as a homeschooler. Here are some options you might consider.
This post contains affiliate links. If you click and buy I may make a few pennies, but not enough for a latte.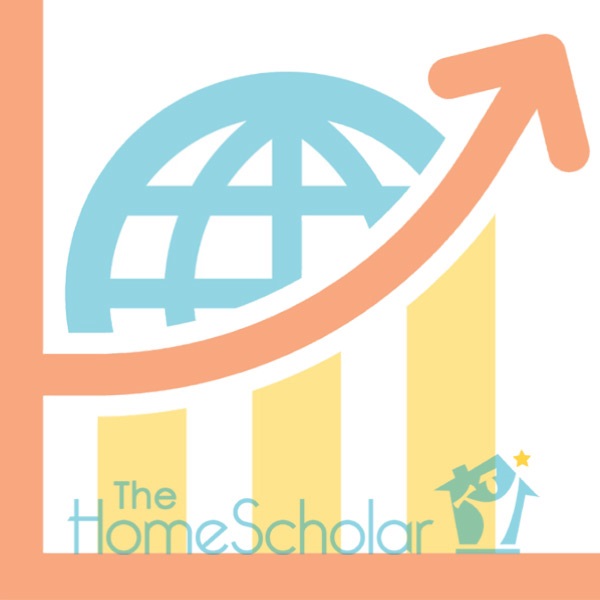 Fast and Easy Economics
Not everything in high school has to be hard. Sometimes you can do things the easy way. Remember when we were in high school? At my public school, there were definitely some classes that we fondly referred to as "underwater basket weaving" because they were so easy. At my high school, that's what our economics class was like. We learned supply and demand and how to fill out the 1040EZ, and that was it! Of course I was completely unprepared for economics in college, and rumor has it that I almost failed Econ in college for that reason. (The rumor is "mostly true" because I actually got a 0.7 my first time through the class. When I took it again, I was tutored by an awesome guy named Matt Binz, and earned a 3.7 the second time around. And no, that's NOT why I married him!)
If you want to teach high school homeschool economics the low-stress, simple, good-enough way, consider this option. Use the Whatever Happened to Penny Candy Book plus the coordinating workbook. Presto! 1/2 credit of high school economics. This material is "Free Market Austrian Economics" for those who know or care.
Book 
Whatever Happened to Penny Candy? A Fast, Clear, and Fun Explanation of the Economics You Need For Success in Your Career, Business, and Investments
Workbook 
A Bluestocking Guide to Economics by Jane Williams
Just a Little More Economics
If you want to beef it up a little, you might want to add the Basic Economics class from
The Great Courses
. That's a simple college level lecture that can help bring it up to a more challenging level but without making it a hard class.
Economics, 3rd Edition by Professor Timothy Taylor M.Econ. of Macalester College by The Great Courses
If you wanted to beef it up a little more, and make it even more challenging, you might consider using Economics in One Lesson, by Hazlitt. I found the book as a
 free PDF download on the Mises.org website
, or you can purchase it on Amazon.
Economics in One Lesson: The Shortest and Surest Way to Understand Basic Economics by Henry Hazlitt
.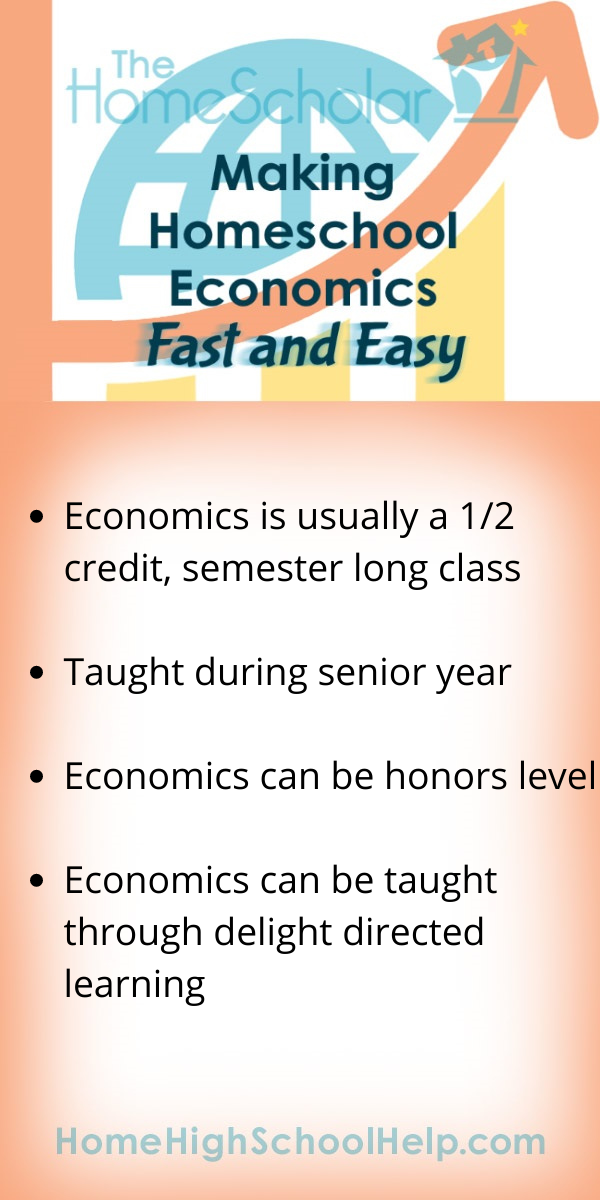 Honors Level Economics
If you want to cover a very rigorous, honors-level, full credit Economics course, consider getting 
Sonlight Curriculum Economics Program
, or 
Thinkwell Economics
 or  
Thinkwell Economics for Homeschool Students
. I haven't used this set myself, or seen a copy, so I can't comment on the economics perspective or philosophy of the class. I have heard great reports, and I know that it is a full credit class that will prepare students for the AP exams in Micro and Macro Economics.
Delight Directed Economics
I homeschooled two boys. My older son did the bare minimum, and had a 1/2 credit homeschool economics class based mostly on 
Economics by The Great Courses
. My younger son loved economics more than anything, and ended up with a whole credit of economics every year, using almost every resource known to man, it seems. He had a credit of economics, a credit of microeconomics, and a credit of macroeconomics. It was all delight directed learning. He loved the resources at 
Discovery Institute
 where he first met Jay Richards, attended 
Acton University
 during summer breaks, and presented at the 
Westerm Economic Association International Conferences
 as a high school student. If your child loves a subject, follow their interests in delight directed learning - even if you find it annoying. (Even when you failed the subject in college, like I did.) Try to find a mentor, if you can. And for goodness sake, include delight directed learning on the transcript! Just because they love something doesn't mean it can't be on the high school transcript. Loving it just means you can give them an "A" in the class!